Health III Redone
The required course undergoes a makeover this semester with the addition of a project aimed to bring health-education to the wider community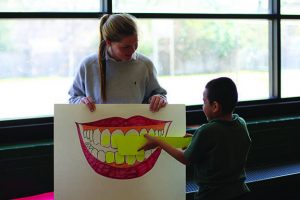 With the introduction of a health-related community service project for the first time this quarter, class members not only explored personal social, emotional and intellectual wellness. They aimed to foster it in the wider community.
In order to support this emphasis on creating a healthy society and culture, the new community service aspect of the course allows students the opportunity to take their classroom knowledge and apply it to the real world, making it more "relevant to real life," Rebekah Calhoun, the Director of Health Curriculum, said.
"I feel it's so important to take health out of the classroom and share it is because I believe part of living a healthy life is fostering an attitude of health that encourages those around us to develop healthy habits," Calhoun said. "It's to our collective benefit for everyone to make positive choices regarding their health."
Calhoun said that she was inspired to integrate a community based learning project into the curriculum when she heard about a class of sixth graders at another school in the Northeast that provided kids in Africa with mosquito nets to prevent them from catching malaria.
"I thought that if these sixth graders could do it then so could you all," Calhoun said.
By working with Director of Community Service Laura Day, Calhoun began a project with her third quarter health class.
Both her C and D period classes traveled to Sudie Williams Elementary School ,  a local Dallas  area public school located 15 minutes away from Hockaday, where many girls tutor each week ,  to talk about health problems in the community.
The C period class decided to promote a healthy lifestyle by teaching the importance of heart health. They visited third grade and fourth grade physical education classes and taught the students multiple games promoting healthy choices such as exercise and nutrition.
Activities included a relay, a nutrition game where the kids matched foods to their food groups, a stop motion film, a smoothie station and a dance station.
Junior Lucy, Health III class member and 2013-2014 Community Service Board Chair, said that teaching the kids was a great opportunity for them to learn stuff that they can really apply to their lives that "we sometimes just assume we know as juniors."
Lucy added that the kids were "really into it and that made us really into it."
Not only does the project help the students at Sudie Williams Elementary learn, it also helps Hockaday students further their knowledge.
"It makes our students learn more," Day said, "because you learn more when you have to teach."
She added that the program offers a great opportunity to create memories and leave lasting impressions that could possibly make an "exponential difference" on the childrens' lives.
Although this rotation marked the first time that Health III students have carried out a service project at Sudie Williams Elementary School, Lucy said she thinks that it was the "essence of service learning and what service learning is about."
"It was a great opportunity that I hope we will be able to turn into a progressive project with more and more classes getting involved," she said.
Calhoun said she also hopes that the project will grow and added that she has even more expansive plans for next year: that not only will the Health III class will expand their reach beyond the Dallas community and into the wider world.
"I hope that the girls are excited to impact lives," she said. "It is about making a difference and is more than just a required health class. It is an opportunity to facilitate change and make a mark."
-Alaina