Community shows off a passion for mathematics with Pi Day celebrations in Lower, Middle and Upper Schools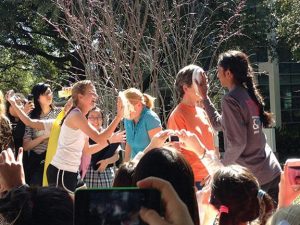 A day that typically falls in the midst of exam week or during spring break, March 14 is rarely available for a school-wide celebration.
But this year was different. A late spring break allowed for full-fledged enjoyment of Pi Day, which falls on March 14 because 3/14 corresponds to 3.14, the estimated value of Pi.
The Lower, Middle and Upper Schools all celebrated the irrational number on March 14 with activities ranging from stations on Graduation Terrace to lunch surprises related to Pi in the cafeteria.
Lower School teachers focused on introducing the concept of pi to the younger students.
"Since lower schoolers don't really know what p-i is yet, we focus[ed] on circles and the number three that day in pre-kindergarten," Lower School math teacher Sheri Le said.
The older girls in Lower School participated in activities that helped them better understand pi and its relation to circles.
"As they get older, we are actually going to take yarn and measure the diameter, and they can find out that it fits around the circle three times and a little bit more," Le said.
Middle School students had the most expansive celebrations because the activities planned corresponded best with their schedules.
"In Upper School, girls have busy days, so it is hard to find time, and we don't want to force them to do activities," math department chair Jeri Sutton said.
There were a total of 25 activity stations set up on Pi Day, with activities ranging from solving math problems to crossword puzzles.
"Each station [was] different," Middle School math teacher Jeni Stout said. "Some [were] games like how many jumping jacks can you do in pi seconds, or can you estimate pi seconds."
The highlight of the Pi Day activities was the Pi Kilometer Run, a 3.14 kilometer run for students from all grade levels.
"Anyone who want[ed] to run could run," Stout said, "and we had prizes for the top finishers in each grade level."
Upper School students participated in the activity stations during their free periods, but the math department also posted problems involving pi for students to solve.
"We ha[d] problems that involved Pi posted at different places in the Upper School with a whiteboard," Sutton said. "They could solve the problem in groups or add pieces of the solution."
The Upper School math club took initiative in helping to plan for pi day.
"Math club work[ed] with Ms. Chu and the math department to plan different activities…such as puzzles, brainteasers and fun problems," sophomore Mary said.
However, beyond math problems and puzzles, the math club gave students a chance to vote for which teachers they wanted to see get pied. Students who completed an activity could cast their vote for teachers who had volunteered themselves. At the end of the day, the teachers with the most votes were pied.
Senior Courtney received the honor of pieing Ms. Grabow, and freshman Manisha received the honor of pieing Ms. Girard.
"I think the pieing was really great, and it went exactly as planned. A lot of people … were all pretty excited to see the winners get pied," recalls Mary. Students gathered during Y period on March 15th to watch the event in Metzger Plaza.
"I think pi day was successful overall," Mary said. "It was a great experience, and I hope that we get the chance to celebrate another pi day at school."
– Kathy