Enthusiasm Ebbs in This Year's Student Council Elections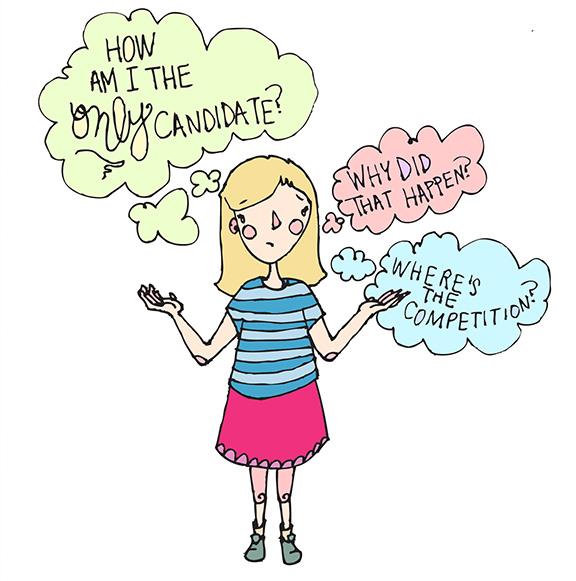 But this trend has not always been the norm for the Class of 2014. After the class returned from Mo Ranch freshman year, 76 of the 120 girls ran for a Student Council or Board representative position, the largest number that form sponsor Kyle Vaughn has ever seen, he said.
This year's election, with its sheer number of unopposed positions, therefore surprised Vaughn. The grade's enthusiasm for student government has clearly waned.
"I think people get complacent," Vaughn said. "Students can be afraid to stretch themselves in new directions and new areas. We can too easily pigeon-hole ourselves into being the arts kid or the sports kid."
Junior and newly elected Vice President Mary, who ran unopposed for her position, found the lack of competition "kind of upsetting."
"I believe in myself as a good candidate, but I know there are other people who would be just as good," Mary said. "Sometimes it's nice to run against someone and feel that anticipation."
Mary and president-elect junior Meredith found themselves in the same Student Council positions that they held during Middle School. That, along with their nonexistent competitors has made this year's election something of an anomaly.
Competition is something realistic that you will encounter in all facets of your life, Upper School Dean for Student Affairs Meshea Matthews said.
Senior and former Student Council President Ashley agreed that this year's Student Council elections are not an accurate representation of real elections.
"Everyone is just trying to be respectful of not encroaching on something someone else wanted," Ashley said.
In addition, some students were intimidated to run against those who are more experienced.
"I've thought about running," junior Elizabeth said. "But I would never do that because I don't want to be sad after I don't win, because I know it's not going to happen."
The unopposed elections provide further evidence that people are disheartened about the election process, junior Caroline said.
While this disillusionment with bureaucracy is understandable, junior Paige, newly-elected Form IV Secretary (and first time Student Council member) thinks the Student Council could benefit from the fresh ideas and perspectives of new council members.
"This is high school. It's not the United States," Paige said. "Experience is good, but it's not life or death."
Vaughn agrees that official experience is not a prerequisite because experience can come in many ways, including behind-the-scenes roles and even running for a position and losing.
"We often lose sight of losing being an opportunity," Vaughn said. "You really learn something by putting yourself out there and gaining that experience."
Ashley and Mary both said that they encourage participation in Student Council elections because of the opportunities that come with leadership positions.
"It's still good to run," Mary said. "It's not always a set race."
-Mary Clare