A Mutual Sacrifice
Parents would give anything for their children, but shipping their children around the world and shelling out thousands of dollars a year for education is not a sacrifice every parent must make. For many boarders' parents, however, this is the price they pay to educate their daughters at Hockaday.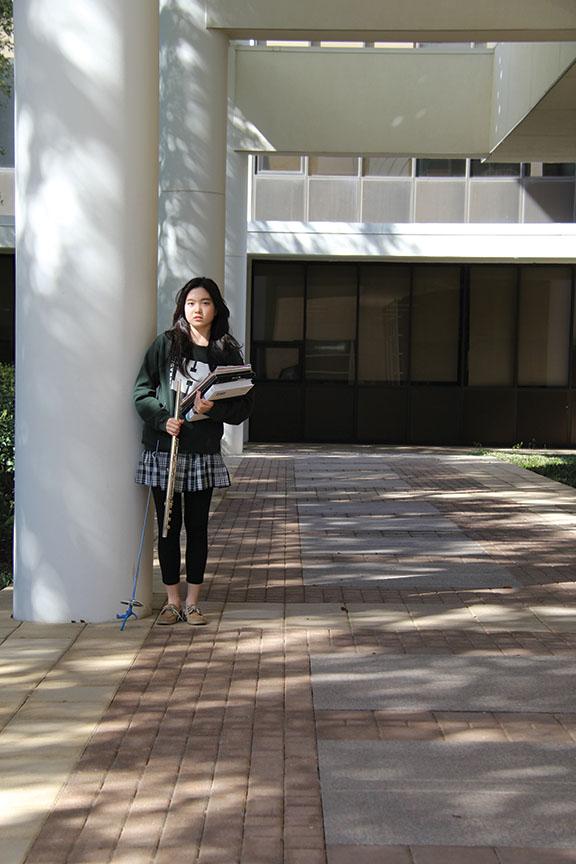 Korean boarder senior Rebecca's parents made a huge financial and emotional sacrifice to send Rebecca (who came to Hockaday in eighth grade after spending a year in California) and her sister to boarding schools in the United States.
"[My parents] love us a lot," Rebecca said. "My dad would always cry in the airport. There's this one security guy who knows my dad as the guy who cries at the airport."
But Rebecca's parents knew they wanted her to study in America, she said, and the earlier the girls acclimated to the separation and the American culture, the better.
The divide between Korean and American culture is vast.
"In Korea, it's cut-throat. It's all about getting ahead of each other," Rebecca said. "If I had stayed in Korea, all I would've done is study."
Because Rebecca was reluctant to study and work out in her younger years in Korea, her parents constantly had to remind her to keep up with her studies and physical fitness. Though she keeps in touch with them daily through Skype and phone calls, at Hockaday, Rebecca has learned how to manage and motivate herself, which has improved her relationship with her parents, she said.
Junior and Chinese boarder Anita has also developed a sense of independence at Hockaday, especially concerning her finances. Anita came to Hockaday in eighth grade from a boarding school in China where she had a full scholarship, so the transition was financially straining for her parents.
"You can't ask [your parents] to give you money all the time," Anita said. "I lived on eight dollars in my bank account for two months. It makes you more conscious of the things you take for granted."
Sophomore and Chinese boarder Snow also realized the monetary sacrifice her parents made by sending her to Hockaday.
"My mom has been a housewife for a while, but when I came here, [Hockaday] cost much more, so she had to find some small jobs to do," Snow said. "Her time is sacrificed."
These financial sacrifices have given the girls a more open-minded and well-rounded perspective that is fostered by the U.S. education system.
"I'm not the kind of person who likes to study, study, study and do nothing else," Snow said. "I like to do a lot of things besides study. I think here I can spread my interests."
Rebecca agreed that if she were still in Korea, she would not have time for the things she loves to do such as playing the flute, fencing and debating. Similarly, Anita said she would not have discovered her love for photography.
In Anita's native China, the national entrance exam for universities is crucial to a student's career path.
"Everything you've worked for up to that point doesn't really matter," Anita said, which is why she prefers the more holistic American evaluation of students that comprises of more than just test scores.
Anita's mother wanted a more well-balanced life for her kids outside of China, she said.
"[In China], there is a narrow path for growth because the stuff [students] learn is very restricted to the textbooks," Anita's mother said. "If Anita had stayed in China, she wouldn't have a balanced life or be exposed to the Four Cornerstones values. She is more mature, confident, happier and healthier."
American education focuses on understanding rather than memorization. Sophomore and Chinese boarder Doris said that she absorbs what she learns better in America than she does in China.
"In China, I study for the tests, and here I study not only for the tests but also for the knowledge," Doris said.
When Anita returned to China this summer after taking Advanced Placement Chemistry last year, she said the students there studying chemistry were jealous of her actual understanding of the concepts, not just memorization and application of formulas and equations for problems on the test.
The final conundrum with which the boarder must contend, a problem far more difficult than any encountered even on an AP Calculus BC exam is this: Should I stay or should I go?
Some boarders such as Rebecca, Anita and Snow easily answer that they plan on staying in America to pursue their career paths.
But Doris still feels very Chinese, she said.
"I just think I will feel freer in China," she said.
Though her decision seems self-serving, she actually has her parents' best interests at heart rather than her own. Reciprocating their sacrifice for her education, Doris will return to China for her family after she completes college in the U.S.
"My parents don't speak English, and I'm the only child in my family. If I come to America, I cannot leave them in China, but if they come here with me, they cannot actually communicate," Doris said. "They don't get as much freedom here as they do in China."
-Mary Clare