Just Dance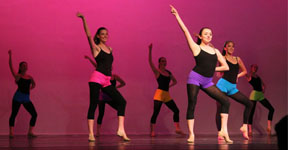 [nggallery id=59]
Pitch blackness. Silence.
Then, the backdrop glowed orange, illuminating the black silhouettes of the statuesque dancers. The music began to play, and the lithe performers moved mesmerizingly in synchronization, their limbs twisting and turning in fluid movements. Thus began the Dance Assembly that lasted for 80 minutes and had the entire Upper School student body entranced.
Sophomore Dance Workshop I member Ryan loved performing at the assembly.
"It's always fun at performances when the crowd gets into it and cheers you on," Ryan said. "It's also really nerve-racking because you know people in the audience, but it's still fun because they get so see what you've been doing all year."
For the seniors, the spring dance performance was their last at Hockaday.
"It's fun because we've worked really hard, but it's really sad since it's my last performance here," said senior Dance Theater member Nancy. "My favorite part about dance at Hockaday was the performances because it was great to see how many people come out to see our hard work."
Nancy's favorite dance routine was one choreographed by guest choreographer Alex Karigan '03. However, most of the dances were choreographed by students.
"We always choreograph the fall show and then we let the students choreograph the spring show," said Performing Arts Chair Beth Wortley. "We had about nine pieces student-choreographed in Dance Theatre."
The dancers had been rehearsing since their Cinderella performance in late November. Students volunteered to choreograph dances for the spring performances.
"The girls that choreographed dances had to prepare them outside of class on a volunteer basis," Wortley said. "They didn't do it because they were required to. They did it because they wanted to."
Junior Dance Workshop I member Devon choreographed a piece called "Sweet Nostalgia."
"It's always cool to choreograph parts separately that move at the same time and then have it come together," Devon said. "It looks really cool on stage."
The dancers never actually had the opportunity to rehearse the entire show.
"Seeing it all come together was the best part because we work separately in every class," Wortley said. "I don't teach all of the classes, so I don't get to even see until almost performance time."
However, the dancers were still able to put on an exciting show that exhibited their dancing abilities.
"It was exciting to see all the levels of dance perform and how it all came together after their hard work," Wortley said. "We're really proud of the [Hockadance] and how beautifully it all came together."
-Courtney