The anthology will allow readers to peek into Hockaday's history through the decades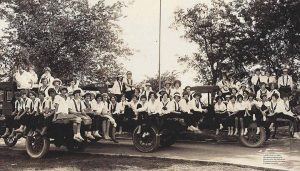 It will be a 400-page long, 10.5 inch by 12.5 inch book. From page one, readers will be whisked away on a 100-year-long journey of Hockaday's rich history, dive into the life of Miss Ela Hockaday and explore the evolution of Hockaday through the decades. The anthology is called "The Hockaday School: An Anthology of Voices and Views 1913-2013."
In celebration of Hockaday's upcoming centennial anniversary, Hockaday will publish the anthology, which will include speeches, articles, letters, poems and essays written by faculty and administration members, students, friends of the school and alumnae. Some were even written by Miss Ela Hockaday.
"The Anthology tells us a great deal about the vision, personality and character of our school's founder, Ela Hockaday, through Miss Hockaday's own words," Editorial Board co-chair Natalie Lee '55 said. "I wanted to include primary material of Miss Hockaday talking about her visions in her own writings."
In 2011, the Editorial Board was formed to craft the anthology.
"When the Editorial Board was formed, it was their task to decide the nature of the book and how to put it together," Centennial Director Holly Hook said.
The Editorial Board consists of five Hockaday alumnae and is co-chaired by Lee and Betsy Best Cullum '73. Angela Ards '87, Jani Hall Leuschel '82 and Moira Muldoon '91 make up the rest of the board.
"Before we started making the anthology, I asked people, including board members and alumnae, what they were looking for in a book about Hockaday," Lee said. "After talking to them, we set about three things to do: have lots of photographs, talk about Miss Hockaday and teach something about the history of the school."
The anthology includes bits and pieces of history from all 10 decades but is not a strict textbook of Hockaday's history.
"It's a coffee table book in the sense that we wanted it to be beautiful. It's something you can pick up and read in pieces because it's so [visually] attractive and appealing," Hook said. "You don't have to read it cover to cover in order to have an enjoyable experience."
This is not the first book Hockaday has printed. It published one in 1938 for its 25th anniversary. Another book, titled "Of Hearts and Minds," celebrated the school's 75th anniversary.
While the new anthology will include some material from both of these books, it will also feature 21 pieces specifically commissioned for this new one.
The anthology will be organized in silos, which are general headings or groupings of materials.
"We have some of our alumnae experts on each of the subjects or silos," Lee said. "We chose them because we thought that each of these voices could speak from an expert point of view or their subject from some unique angle of their story."
There will be a visual aspect to the anthology as well.
"The Centennial Anthology is very beautiful thanks to Hockaday's treasure trove of archival photos and to the glorious contemporary pictures taken by Hockaday's talented resident photographer Charlotte Hoskins," Lee said.
Webmaster and Staff Photographer Charlotte Hoskins provided photos to complement the written parts of the anthology and to make it more visually appealing.
"I absolutely love to capture the moment and peoples' expressions," Hoskins said. "It makes me happy that I can do something that is significant."
For Hoskins, sifting through the images from the past decade was the most enjoyable part of her work.
"I love looking back at the pictures. They not only make you relive the event, but they bring back the emotion in it too," Hoskins said. "I am excited for people to see it; it really is a beautiful rendering of Hockaday."
Lee said that putting the anthology together was personally rewarding.
"I loved looking into the past and reliving my generation at Hockaday and reliving my mom's generation at Hockaday," she said. "I'm sort of a nostalgic person and going through all of that was just fun for me as well as going through all of the photographs."
For other alumnae, helping contribute to the anthology was a way to give back to Hockaday.
"I am humbled to be asked to serve Hockaday, and the opportunity to be a part of a once-in-a-century celebration was one I couldn't pass," Centennial Executive Chair Kathryn Francis '94 said. "Hockaday gave me many gifts during my days as a student, so I am thrilled to give back and help our school and community celebrate [the past] 100 years."
Students and faculty will receive a free copy of the anthology on Book Distribution Day, Aug. 19.
"I'm very excited for everyone to have a copy at book distribution. It was very important to me that all students and faculty and staff get to receive a copy and get to enjoy it," Hook said. "At some point I want people to look back on it and think, 'Wow, this is my school,' and take pride in it."
The book may be preordered for $48 before Aug.19 or $60 after Aug.19. Pentagram of Austin, the company that designed the anthology, is printing 2,500 copies in Hong Kong this summer. The book will also be sold online at www.hockaday100.org and in the Hockaday bookstore.
"The goal was to celebrate the 100 years and to be something that any alumna from any period would want to own," Lee said. "It's what we've attempted to do, and I really feel that we've achieved that."
-Courtney