Hockaday Community Affected by Construction
It took Hockaday 100 years to increase its student body from 10 to 1,087 students. Over this time period, the school moved locations twice. And after a century, Hockaday's square footage grew from 356,123 to 3,833,280 square feet.
As one hundred years of tradition and success come to a close, it's time to embark on a new beginning, starting with construction that will, in fact, bring the school to almost four million square feet—twice the space that Northpark Mall occupies.
Boarding Department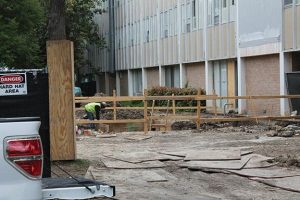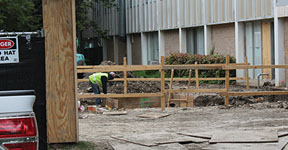 The improvements for the boarding department are already in full swing. In March, the bridge connecting the two subdivisions was demolished into nothing more than bits of bricks and mortar.
Sophomore boarder Vicky said that next year, the housing will come equipped with a new bridge that will make traveling between dorms and into school much easier. Other new features include new furniture, updated bathrooms and better lighting.
Although boarders in Upper and Lower Morgan dormitories must currently walk out the back of Tarry House and maneuver their way around a maze of dirt piles and bricks in order to get to school during the construction period, Vicky assured that all the boarders are very understanding.
"It's a little inconvenient right now, but everyone is really excited for next year," she said.
However, with all the excitement surrounding the new buildings and the hectic time window between now and the start of school in August, J.T. Coats, Hockaday's Acting Chief Financial Officer, makes sure she keeps safety in mind.
"I have a weekly meeting with the contractor, the Head of Security and everyone involved, and we just hash out all of the concerns," Coats said. "Planning and managing the construction will work itself out; the safety is always the most important part."
Head of Security Karyn McCoy is very adamant about safety as well and, with the help of Coats, has it all under control.
"We need everyone to be on the same page so we shut down the doors in Tarry House. It's inconvenient, yes, but it is necessary because it cuts off the pathway of the construction workers interfacing with the girls," McCoy said. "And that is our main concern."
Science Building
The boarders are not the only ones adjusting their usual routines for the sake of progress: the science department will be moving out of its building following commencement and into portable buildings located in the grassy fields at the front of the school in order to accommodate construction efforts.
Science Department Chair Dr. Beverly Lawson and the rest of the science teachers have already begun packing.
"It's been a slow process," Lawson said. "It's like moving your household but worse because there is just so much stuff."
However, despite the inconveniences, Upper School chemistry teacher Ann Ojeda said that packing definitely has its upsides.
"I have been finding bottles and supplies that I completely forgot we had. It's nostalgic and kind of fun," she said.
The science department donated the extraneous supplies to local schools that don't have funds of their own.
Amidst all the packing and planning, Ojeda finds that the biggest issue is the lack of storage in the portables. With limited space, she cannot bring many materials with her for the move.
"That's definitely the hardest part: figuring out what is essential and what you can live without," Ojeda said. "It's really just a whole big puzzle."
Lawson thinks that another small issue is that there will not be any gas in the portables, so teachers will have to use temporary systems instead.
However, these portables will come equipped with all the necessary components. The 13 portables, situated on the front lawn, include power, water, SmartBoards and wireless connection.
In order to ensure an enjoyable year in the portables despite the issues and inconveniences, Lawson said she is "committed to staying flexible" through it all.
Also determined to look on the upside, Ojeda assured that everyone in the science department is "pumped," not because of the portables of themselves, but because of what will come next.
"It is insane what they are building for us," Ojeda said. "It's everything that we have been dreaming of."
The features of the three-story science building include a pendulum, independent research labs, more vent hoods, new lab benches, a greenhouse and a bigger, better Junior Engineering Technical Society (JETS) Lab.
While students aren't particularly thrilled about having classes in portables, sophomore Ahona said that everyone is very excited for the new building and are very understanding.
"I'm okay with being in the portables for the sake of the science building being renovated," Ahona said.
Ojeda said that she owes a lot of their excitement with the process to the construction team, Good Fulton & Farrell Inc.
"We have meetings all the time where [the construction team] asks us 'What do you want?'" Ojeda said.
Coats agreed that this construction team is "one of the best."
"[The construction team] cares so much about what goes on in the classrooms that they are just constantly making suggestions," Coats said. "They want to be sure that everything is going to work out and everyone is going to be happy."
Lawson noted the need for this construction. "I've been here 27 years," she said. "And now we have twice as many science teachers and twice as many science students as we had then. It's a completely different situation now, so we need all the space we can get."
Ojeda has requested a "science commons" where people can free-flow ideas, work on projects and even do research.
But before all the new amenities and features can be enjoyed, Ojeda says we all must endure the "big switch" to life in the portables.
Although Ojeda said some aspects will change after the "big switch," she has high hopes that not much will.
"The ceilings will be a lot lower, but overall it's going to be just like our classrooms now, so everything should pretty much stay the same," Ojeda said.
The science building construction site will be gated off to prevent student injuries. Construction workers will be constricted to certain pathways.
Parking
Now to answer the burning question that Coats knows is sitting in the back of every driver's mind here at Hockaday: Where will we park?
Yes, it's true, parking is going to change a lot next year in order to make room for the construction trucks and workers, but Coats has worked very hard to craft a system that works for everyone.
"Senior parking will virtually be the same, but we are losing 65 spots to construction," Coats said. "However, we are temporarily paving over an area by overflow parking and that will give us 100 new parking spots."
Keeping Students in Mind
To make it an even easier transition, Coats, with help from Eugene McDermott Headmistress Kim Wargo and Upper School Head John Ashton, is looking to get student input on what they want to see in the new buildings.
Besides Coats' concern with student opinions, she is also keeping the integrity of Hockaday in mind throughout this entire process.
"We want to make sure that we blend everything well," Coats said. "We still want to keep the older parts of Hockaday special."
To prove that, Coats encourages students to go to the door across from the orchestra building and look at the bricks surrounding it.
"You will see several old bricks from before the last renovation but also new bricks from after," Coats said.
Ojeda agreed that although the next few years may be plagued with orange cones, white tarp and heaps of bricks and cement blocks, the aftermath is looking bright. In the words of Ojeda herself, "It's a short-term inconvenience for a long-term success. And it's definitely worth it."
-Alexis