All Students to Participate in School-Wide Sculpture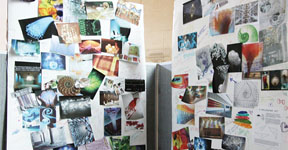 Hockaday adds to the lineup of construction projects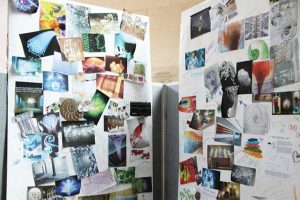 In celebration of Hockaday's upcoming centennial celebrations, Hockaday has added another project to its plans: a glass sculpture that all Hockadaisies, grades Pre-K through 12, will contribute to in creative ways.
Art and robotics students will be involved in this endeavor starting in the fall, while the entire student body has already had the opportunity of contributing through "idea boards" that were located in the ARC. Everyone is encouraged to sketch models or suggest color schemes for the project.
The brainstorming of students will be combined with the ideas of sculptor Carlyn Ray, the owner of Carlyn Galleries and the future artist in residence who was invited by Hockaday to be in charge of the sculpture.
Ray has previous experience working with schools, such as a shorter-term glass sculpture project with The Episcopal School of Dallas. Knowing of Ray's work with ESD, Hockaday's Visual Arts Chair Susan Sanders invited her to lead the long-term project.
According to Sanders, the creation of the artwork will offer the school a chance to have a "sister-to-sister community building" project, one that will foster collaboration and bonding between grades.
Ray will set up a temporary office on campus next year, a place for students to visit in order to get to know her and her work better.
"The difference I wanted to have with the Hockaday students was really just to be able to interact with them," Ray said.
While the students are going to design the sculpture, Sanders wants students to have easy access to Ray and give them an opportunity to contact and work with her.
Teachers, for all subjects, will be finding ways to incorporate the project into their curriculum. The piece will be especially woven into Hockaday's art programs next year.
The project is planned for completion in May of next year and will be displayed in the Centennial building.
"I'm very pleased…the architects [of the Centennial building] seem to be very excited to work with us in this project," Ray said.
Because the completion depends on what the Hockadaisies design, the sculpture's unveiling could possibly happen before the building opens. Therefore, the sculpture might have a temporary public location, where the entire Dallas community may see what the students have created.
Sanders wants current Hockaday students to be able to remember their involvement with the project when they return to Hockaday years from now.
"The idea is that it's overarching and it's galvanizing, it brings us together," Sanders said.
Junior Emily Marucci looks forward to participating in the piece.
"When we come back as alumnae, it will be a great conversation starter," she said. "A fond memory to look back upon."
-Megan