Hats Off to Commencement
In less than a week, seniors will walk across graduation terrace for the final time, wearing long white dresses and hats embellished with flowers. The Fourcast takes a look at the fashion behind Hockaday's biggest tradition: Commencement, along with the dress, the hats, the flowers and everything that makes this ceremony so special.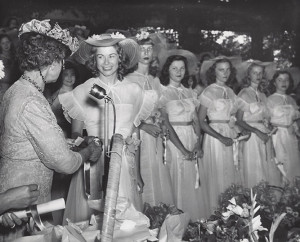 One of the most memorable aspects of Hockaday commencement is the long white dress, a tradition started by Ela Hockaday in 1914. The staple white dress has faced its fair share of change over the years, modernizing with the trends and styles of each class.
Archives Manager Emily Embry said that Ela Hockaday was so fixated with the idea of a white graduation dress because she "wanted to bring the old southern charm but also show that the school produced cultured, intelligent ladies. For them to be dressed up in beautiful white dresses just made it so special."
Each dress is unique to the class' personality and the time period.
"The really exciting part for me is wondering what the fashion at that time was and thinking what made the girls choose this one dress out of all the dresses," Embry said.
The process of picking a dress starts a year in advance in June. Nancy Winston '82, senior Hailey's mother, coordinated this year's graduation dress.
She started by shifting through dresses in Stanley Korshak Store's bridal department, working with the shop assistant to find five to six dresses of varying styles. After being approved by Eugene McDermott Headmistress Kim Wargo, the dresses were modeled to the senior class in an annual fashion show before they are then voted on.
"Probably one of the most unique aspects of Hockaday commencement is that the whole senior class gets to vote on it," Nancy said. "Everyone respects that it needs to be a dress that will look good on everybody."
Senior Hannah spoke highly of the Class of 2013's pick, saying that it was the undisputed choice.
"As soon as the model came out," she said, "everyone started cheering so it was pretty unanimous that we wanted that to be our dress."
Hannah described the dress, which will remain a surprise for everyone until graduation day, as "perfectly simple and very flattering on everyone."
The Hats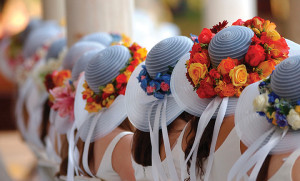 Another facet of a Hockaday commencement are the large sun hats worn and decorated by the graduates.
Not just another accessory, the hats are a way for Hockaday graduates to honor relatives who attended Hockaday and their legacy.
Senior Kate expressed her admiration for this tradition.
"I think it is incredibly special that girls with alumnae relatives can wear colored hats. It is a unique Hockaday tradition, along with graduation itself, and embodies the rich history of the school," Kate said. "I love it and I think girls who wear them feel a great connection with the school and their family on that night."
Since the change in 1991 from colored to white hats, the girls wearing their relative's hats stood out among the sea of white.
Nancy, who is passing her colored hat to her daughter Hailey, explained the significance of this tradition.
"I don't think it's about the color of the hat, it's just that somebody hung onto the hat for 30 years waiting for the next graduate," Nancy said. "All that was important was that you were honoring your mother, sister, grandmother or aunt, whether or not anyone else knew."
The Flowers
While dressed in identical white dresses, singing the same songs, Hockaday girls embody age- old Hockaday traditions while graduating. The only way for the girls to express their individuality and differ from each other is through the flowers on their hats.
Each girl is given the opportunity to decorate their hat however they choose.
Kate described her thought process in picking the flowers for her hat as strenuous but exciting.
"Picking flowers for my hat was probably one of the most difficult style decisions I have ever had to make," Kate said. "During my consultation with the florist so many questions were running through my head. What colors? What will I think about my flowers a year from now? Ten years from now? Eventually, I decided on what I thought was just me, at that moment."
But picking flowers, however, hasn't always been the elaborate process that it is now. It was a much simpler process for Nancy and her classmates.
"The flowers have changed dramatically. Now it's such a production to pick out your flowers because you can get almost any color and type you want," she said. "When I was graduating it was whatever flowers the florist had that week."
Now, however, the girls have a large selection of various flowers to choose from.
"It helps to bring out the personality of each girl," Embry said. "It's especially nice to see the girls have fun with it."
-Avita