Start
4814 Greenville Drive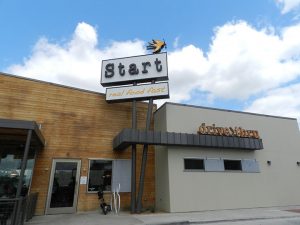 An inspiration for the Dallas community to make better eating choices, Start has the desire to redefine the meaning of fast food. Located on the NE corner of Greenville Ave. and University Blvd., Start offers real food with natural ingredients in order to put the "healthy" in "tasty."
For 11 a.m. on a Sunday morning, the modern chairs and tables of the restaurant were mostly occupied. I noticed customers eating their portioned meals, wrapped in eco-friendly paper, while lazily reading the newspaper or flipping through old emails and text messages, some energetically chatting with their friends.
The menu was displayed over the checkout counter, exhibiting a vast array of meal options. After ordering, I waited at my table as the freshly-made food was brought to me.
I ordered their most popular breakfast option: the bacon, sausage and cheddar sandwich for $4.75. Cooked to perfection with apple-wood smoked bacon and cage-free eggs on a toasted wheat English muffin, it was great. I was amazed at the plethora of flavor; it was very unique.
My brother, however, opted for the less healthy option: plain silver dollar pancakes for a mere $3. Much to his dismay, the pancakes weren't the size of a Frisbee; they were a much smaller and therefore healthier portion. Nonetheless, he described them as "the best pancakes ever" for their delectable taste.
To accompany your meal, the restaurant  also offers numerous sides, including fresh fruit, pita chips and baked potatoes.
I noticed several other teenagers walking out sipping smoothies when we pulled up to Start. And because I live for all smoothies, I just had to get one.
I ordered a blueberry pomegranate, and boy did it live up to my expectations. It was the ideal combination of juice and fruit, not too bland and not too sweet. Start also offers a wide range of other fruity drinks such as orange and strawberry-banana.
Their fresh food options are packaged in an eco-friendly way to spread environmental awareness. Start is open for breakfast, lunch and dinner. Although their lunch and dinner options are slightly more expensive ($7-$10), they are equally pleasing to the eye, as well as the taste buds.
But unlike most quality restaurants, Start, which is open everyday from 7 a.m. to 9 p.m., has a convenient drive-thru. Start also offers catering services for parties and other special events.
-Erin