Junior Sarah competes alongside the Jesuit Cycling team, earning third place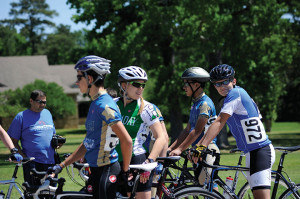 Hockaday may not have a cycling team, but that didn't stop junior Sarah from finding a team with whom she could train with.
Sarah, with the help of Hockaday trainer Coach Marni Holben ,who shares Sarah's passion for cycling, joined the Jesuit College Preparatory School of Dallas cycling team
"I know the Jesuit program pretty well. The coach over there, we were on the same cycling team," Holben said. "I just know him through the cycling world."
Coach Celeste DesOrmeaux has co-coached the Jesuit Cycling team for three seasons.
"Sarah came to us early this semester," DesOrmeaux said. "She had already signed up for her first race, so the desire to compete was already there."
Before joining the team, Sarah originally decided to start cycling because she wanted to participate in a triathlon, part of which consists of a bike race.
Leroy Startz, her father, said that her dream was born out of her love for multiple sports.
"Sarah has always loved swimming and then learned to enjoy running as she got exposed to the sport through Hockaday's Track and Field Program," Leroy  Startz said. "She then got the idea that she wanted to participate in a triathlon but would need to add cycling to her training regime."
In order to do so, Sarah joined the cycling team, becoming the only female member.
"There [are] not that many girls that regularly compete," she said. "I thought [training with boys] would be a lot different than it was, but it really wasn't. It was chill."
The team has already taken a liking to Sarah. Jesuit freshman Dalton said that everyone just accepted her and she fit right in.
"Over the past couple of months the team has gotten more chances to converse with her, making friends gradually," Dalton said. "She has been encouraging and positive, promoting fun and deeper friendships within the team."
Holben also said that boys from schools like Jesuit don't just support any girls on the team, but they help them improve.
"[The boys] give guidance and practice, but also present a challenge," Holben said.
The boys too would be welcome to new team members from any school.
"We aren't exclusive; we appreciate newcomers," Dalton said. "If one is willing to train and apply themselves and can forget about not fitting in socially, then the cycling team is the perfect fit."
Dalton believes that if the team can bond, it creates a great, inclusive atmosphere for the riders. In turn, this helps the team perform better at races. and have fun during practice.
On average, the team spends one to two hours together each day practicing. Normally, they ride approximately 20 miles per practice.
Holben said  that it is definitely a "big commitment."
"[There is] a lot of time with training and taking care of equipment and getting all the bits and pieces together," Holben said. "You have to be self-motivated at times, because it's not a structured program like an on-campus sport. She is very self-motivated and has really taken off with it."
To practice, Sarah has to dedicate a lot of her weekend time to cycling.
Despite the time commitment, Sarah said, "I think I've been more focused because when I know I'm going to lose my entire weekend cycling, I have to get all of [my homework] done Friday."
On the Saturdays and Sundays that she is not competing in a race, she goes on 20- to 30-mile rides. Ideally, she rides at least least 100 miles per week in order to stay in race condition.
DesOrmeaux said that Sarah had an admirable work ethic.
"Sarah is known for her smile and for never giving up," DesOrmeaux said. "She tackles an objective and then wants to know what she can do next. I don't think she knows the meaning of the word 'quit.'"
Sarah's parents always try to lend their full support as well.
"First and foremost, we are her 'cheerleaders,'" Leroy Startz said. "We also provide Sarah with transportation and make sure she has accommodations and meals to prepare her for her races."
Sarah appreciates her parents support.
"It's really fun," Sarah said. "My parents cheer me on."
Even if it's just for fun, Sarah encourages more girls to join the team in order to better represent Hockaday.
"She is really trying to encourage people to join and I'm surprised that it hasn't happened, especially when you get to go over and hang out with the boys at Jesuit," Holben said. "The interesting thing about that is that it can be a coed team. The girls ride with the boys and they help each other take that first place."
On average, there are two to three race weekends a month between February and May.
And her commitment paid off. She finished the season in third place on the weekend of May 4 in the Great State Championship weekend in Coldspring and Houston.
As the season progressed, she was able to go from just finishing to holding her own and stay in the pack, which enabled her to move up to 3rd place overall at the end of the season," DesOrmeaux said. "Sarah has become a much more confident rider. "
Sarah will also participate in several races this summer including the big race in Wichita Falls, Texas in August called "Hotter-n-Hell," a 100-mile race.
"She will continue to train aggressively so she is well prepared for the 2013-2014 cycling season," Leroy Satrtz said. "We expect that she will participate in all of the Texas Cycling League races that she can."
Sarah doesn't plan on leaving this sport behind when she leaves Hockaday. She wants to take her passion with her to college and far beyond.
"I definitely plan on cycling in college, and then, we'll just see from there," Sarah said. "It's a lifetime sport, so I'm hoping to try to keep it that way for me."
Holben not only agreed that it would be great if Sarah cycled for life but also assured that there will be plenty of opportunities for her to do so.
"Now she's on a competitive level and she'll only get better through college because there are a lot of colleges now that have female cycling teams," Holben said.
Sarah's other hope is for cycling to become a fully recognized sport at Hockaday.
"It will most likely be her legacy to encourage others [to form a Hockaday cycling team]," Holben said. "She's going to be a senior, so this will be what she can leave the other students. I can't wait to see how it turns out for her and other students."
-Alexis and Courtney with additional reporting by Austria and Erin