Running the 2400
Some spring athletes had to take SAT subject tests during SPC in Houston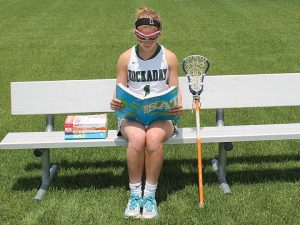 SAT, SPC, national qualifier—three of the most important and stressful things that a junior or varsity athlete has to accomplish. Doing only one of these things is sure to sap anyone's strength for a while, but imagine doing two of the three on the same day. That's exactly what some juniors had to do on May 4.
Although most juniors playing a varsity sport did not face this conflict, there were a few who had to choose between taking the important four-hour test and competing in one of the biggest tournaments of their Hockaday athletic career.
Junior Nicole decided to compete at the Central Rowing Championships in Oklahoma and take one SAT subject test on the same day. Her decision to take four subject tests and College Board's rule that only allows students to take three subject tests on one day left her with barely any choice.
Nicole had been preparing for the championships, which serve as the national qualifier, for the past eight months. She acknowledged that the championship was the "primary focus," having priority over the one subject test she would take that day, since she will still be taking three other subject tests in June.
Nicole was up for the challenge of taking on two extremely mental tasks on the same day but knew that it would be difficult. She said that she was "pretty stressed out," since there would be enough stress on race day and that she would have to drive to somewhere she had never been before, take a test that she had not prepared for and rush back to see if she made her race. She jokingly added she might not have been able to make her race.
However, the conflict did not affect the championship race "at all," because the team made it into the finals for that race. Nicole added that the timing went well, because her race ended up being at 5 p.m., leaving her ample time to prepare for her race after her test.
However, while Nicole previously believed that the conflict would drastically affect her performance on the subject test, she felt differently afterwards.
"I was more motivated [for the subject test]," Nicole said. "I was the only person I knew there, so I could focus and not worry about the people around me."
Joseph said that the subject test was fairly easy, "so it wasn't too bad."
With different priorities, junior Emily, a member of the varsity track team, decided not to attend SPC this year with hopes of achieving a higher score on her SAT subject tests. She took the subject tests on May 4 and will take the SAT on June 1, the only two dates available for students to take the SAT or its subject tests before senior year.
Keeping in mind that the first date rested near the end of the school year, Emily said that "the subjects are more fresh in your mind…you've just finished learning all the material in your classes."
Emily agreed that testing at different locations would definitely affect her performance on the subject tests, and she confirmed this after taking the SAT subject test.
"It's just better to get where you feel more comfortable, because your performance will probably be higher," Emily said.
She further explained that she would have felt more lost and stressed out if she were to take it at Houston during SPC and that it would have been extremely difficult to focus on both events, because "running is a very mental sport."
Like Emily and Nicole, some other juniors had to make a decision. Whether they chose to take on both the SAT and attend SPC on the same day or sacrificed SPC with the hopes of attaining a better score on the SAT, their coaches had their backs.
Laboris Bean, the coach of the varsity track team, voiced his opinions on how one of his athletes, junior Taylor would handle the conflict. Taylor took the SAT and competed at SPC on the same day.
"I have full confidence in my athlete that she will run as well as take the [SAT] test," Bean said. "I know that she will stay focused for both."
Taylor herself later said, "Honestly, everything worked out quite conveniently under the situation's rather inconvenient circumstances."
Bean was surprised when he first heard about the conflict because such a conflict had never come up before in previous years. Yet he believed that Taylor would be prepared, because the team had trained hard this season, and he had prepared her for her races.
On how Taylor performed on her test, Bean was not at all worried. "I know that [Hockaday] has prepared her not only for the test but for conflicted and complicated situations like this," he said.
Taylor said that the conflict had no impact on how she did on both the SAT and at SPC because "[Hockaday's AP U.S. History] teachers have prepared me well, and so I went into the test with confidence."
Like many of the other varsity coaches, Bean fully understood the decision made by Emily.
"As a coach, I always teach my athletes that education comes first, and as a coach, I have to plan for the situation," Bean said. "I have to train other athletes to step up if needed."
-Catherine