Hate the Place not the Game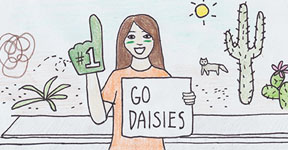 Fan attendance at sports games is lacking, but it might not be the community's fault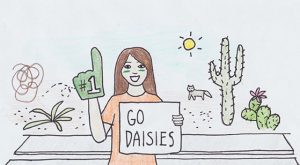 They've hosted countless bake sales, handed out snow cones and given away iPads. Try as they might, the Athletic Board can't seem to motivate people to attend sporting events—but it might not be the fans' fault.
The dearth of fans may be caused by the locations of sporting events.
Take those of the varsity crew team. This year, the closest regatta that crew participated in was at Bachman Lake.
"The answer to why there aren't more regattas in Dallas is simple," said senior Charlotte, varsity crew team captain. "There's a significant lack of water. Other than Bachman and White Rock Lakes, there is no large and calm enough body of water to support racing."
The Lacrosse State Championships have not been held in Dallas in three years. This is because the championships rotate locations every year. Last year, championships were in Houston; the year before, they were in Austin; this year, they will be in Southlake.
Varsity lacrosse Coach Elia Kochan believes that fan support last year was minimal due to the difficult location.
"Mostly parents were in Houston last year," Kochan said. "We don't have very many crowds for our games anyway."
Hokaday has not hosted any Upper School track meets this year. Laboris Bean, Upper School Track and Field Coach, believes this to be due to a lack of a regulation sized track at Hockaday.
"In order to have meets here," Bean said, "we need a new track and bleachers to accommodate fans and athletes."
Senior Ali, one of the varsity lacrosse captains, believes that new facilities would help encourage fans to come out and support lacrosse as well.
"I think no one comes to our games because we don't have a stadium or something like that where people can sit and watch us play," Ali said.
Kochan thinks that acquiring lights would also allow for more flexibility in game times. "If we had lights we'd probably get more fans," Kochan said, "so then we could play at night when people are coming after work or practice."
However, Acting Chief Finacial Officer JT Coats pointed out that there's a monetary problem associated with acquiring stadium lights.
"We got the lights approved in December," said Coats, "but since we went with the new centennial construction, it's just a matter of planning for when we'll have the ability to manage another construction project—and have the money to pay for it. It's mainly
financial."
As for a new track, Athletic Director Tina Slinker agreed with Bean.
"I personally know a new track is something we really need to look at," said Slinker. "The track team has come to me as a whole and it's something they're really concerned about—because of safety, and shin splints and stuff like that, and they're proud of what we do in track, and they want it to show."
According to Coats, a new track is a long range goal for the school.
"We recognize that we need to do something to the track to make it regulation," said Coats. "We need to be able to hold meets. I can't tell you what year it's going to happen, but it is in our overall master plan for our facilities."
However, Coats said the track should be resurfaced within the next year or so.
-Elie