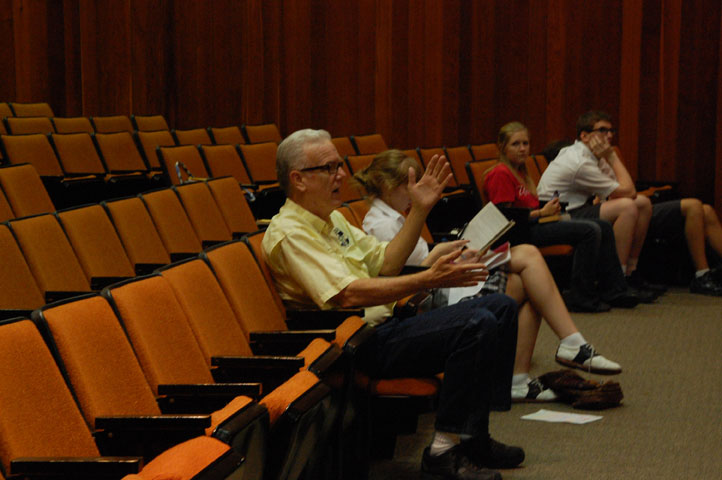 Even with this year's fall production quickly approaching, Hockaday and St. Mark's acting teacher Rod Blaydes sits relaxed in the St. Mark's greenroom.
 "I'm always looking for shows that give insight into what theater is, what it's like behind the scenes," says Blaydes. "And I didn't feel tragic this year" he laughs, explaining why he chose this unique comedy Laughing Stock for the Hockaday/St. Marks fall play.
The play tells the story of a company actually performing three different plays directed by the character Gordon Page, who is played by St. Mark's senior Christian.
All characters agree that the play is humorous. "I think that there is a chance people will be falling out of their chairs, rolling on the ground in laughter, but metaphorically because that's not appropriate in a play setting," jokes senior Lauren.
 "They will be surprised about how much of the play is serious and dramatic," says Christian. "But having said that, it's one of the most hilarious plays I've ever read, and I hope that people will agree."
How does the comedy compare to real life theater?
"I wish that the characters in an actual theater were as hilarious. The characters are based on types of people you will find in theater," says Christian.
Lauren, who plays Sarah, adds that "this is very much modeled off of real life actors. While we do have our funny moments, the people are not nearly as dramatic."
Blaydes has chosen distinct approaches while directing the actors in Laughing Stock. A cast of fourteen rehearses for the production, portraying workers at the fictional and twisted Playhouse Theater.
"Lately we've been getting to know our characters a lot more than usual," says Christian. During rehearsal, the actors sit on stage as Blaydes calls them out by character name.
"What do you get from Sarah?" he asks Lauren, who responds with her characters personality traits, relationships, background, and mannerisms.
Blaydes is passionate about the characters in Laughing Stock. "You might laugh at them but they're kind of good people too, even though they are a little strange sometimes," he says.
Blaydes says he is a lot like the character of Gordon Page.
 "I think they both take into consideration what their actors are capable of doing, they are both really open to new ideas and possibilities to enhance the production," says Lauren.
Christian disagrees, for the better.
"They handle [productions] a lot differently," he says. "Blaydes is a lot more decisive. His productions turn out a lot better than Gordon's."
It will be up to the audience, however, to determine if Blaydes is hidden within the character of Gordon Page during the production.
On playing the role of director, Christian says that "[Blaydes] advised me not to [channel him], but he's the only director I've ever known so I assume some of my character will have to be derived from him."
The fall play will be performed Oct. 22 and 23 in the St. Mark's Black Box Theater.•
—Lily