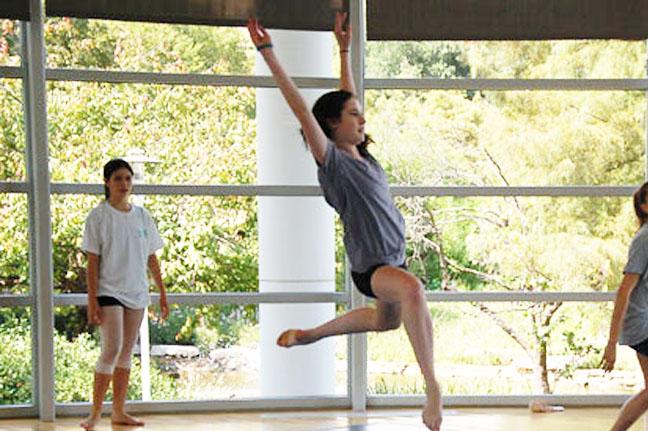 Kate Walker started dancing at age four. She had turned down gymnastics lessons a year earlier because "I didn't want to do anything but wait until I was old enough to dance. And I haven't stopped since then."
 Walker came to Hockaday last month as a guest choreographer to teach master classes for the Hockaday Dance Department. Walker's says her choreography has been inspired by some amazing teachers. Kathy Fletcher at Westover School in Middlebury, Conn., introduced her to "her language: modern dance."
 She was also inspired by the entire faculty at Cornish College of the Arts in Seattle, Wash. She says that they shaped her into the dancer and choreographer she is today. Currently, Walker teaches at Booker T. Washington High School for the Performing and Visual Arts in the Arts District of downtown Dallas. She teaches freshman through seniors of varying skill levels.
 She also teaches adult classes part time at the School of Contemporary Dance and has her own dance company: Deka Dance. Walker's passion for dance is obvious to those around her. She explained to Hockaday Dance Theater that a personal experience inspired her in choreographing a piece for the fall show, saying it was about her aunt who recently passed away. The dance is very light and contains a lot of movement so that the dancers will appear as if they are flying. These transitions are about the peaceful flight from earthly life.
  "I don't know what else I would do" without dance, Walker says. "I don't like to exercise. But [dance] keeps me in shape. It's the way I express myself…and as I teach more and more I learn to express myself."
 She enjoyed coming to Hockaday because of the energy the students bring. She says that Hockaday dance classes have a different kind of energy than she experiences at Booker T. There is "different energy at an all girls school," she says. "I love that. It's different from what I do every day."
 Hockaday students enjoyed working with her as well. "I had seen her around at my old company [Dallas Black Dance Theater], but never had a chance to work with her until now," senior Elizabeth says. "Her work is really challenging, but when done right it's beautiful and looks effortless."
Her piece for Hockaday is titled "A Journey Through Any Season," and will be performed at the Hockaday Dance Fall Concert in November.
—Lizzie