Faculty Uses Science Portables for the First Time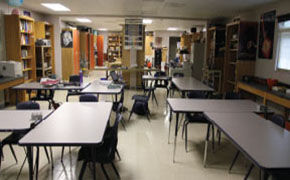 Both the faculty and students use their new temporary facilities while construction for the new science building is underway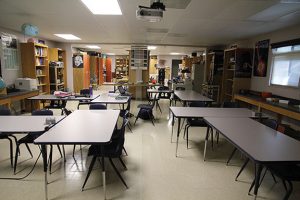 A year ago, passersby driving their cars on Welch Road towards Forest Lane could glance to their right and see a perfectly smooth front lawn stretching in a vast expanse before the doors of Hockaday. Now, those drivers might pause, wondering what 13 colossal, trailer-like buildings are doing on what used to be an empty field of grass.
These are the new science portables, nicknamed by the Hockaday community as "Olympic Village," "STEM City," "The Trailer Park" and "Science Hub."
"I know it's not the most beautiful landscape at the beginning of our campus, but it's necessary," Chief Financial Officer J.T. Coats said. "It represents growth, it represents change and it represents that we're moving forward into the next century."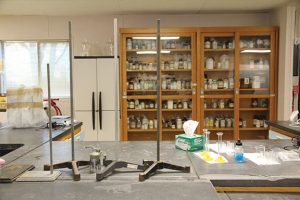 The science portables were installed over the summer and will serve as temporary classrooms while the science building is reconstructed. The construction is set to finish July 2014.
After teaching in the old science building for 27 years, Lyda Hill '60 Distinguished Teacher Dr. Beverly Lawson said that she was emotional as she watched the building first start to come down June 3.
"I was sad to see the building go," Lawson said, "but I'm more excited about what it's going to be."
Lawson is also excited to teach in the new portables, which offer more space than the classrooms in the old building. On average, each portable provides more than 1,500 square feet; the average classroom size in the old science building was 965 square feet.
"A lot of the science classrooms actually have more space than they did in their building," Coats said. "We walked into [Middle School science teacher Patti] Black's portable on our routine check. She has a scooter in her room for her advisory, and she was on her scooter…She had so much space that she could actually use her scooter [in her room]."
Junior Katherine Dau goes to the portables every day for advisory in Upper Science Teacher Kristen Lindsay-Hudak's room.
"I like the portables. They're bigger than the old classroom and a lot closer to our lockers," Dau said. "But I'm mostly excited for the new science buildings."
The portables do not go without a few drawbacks; there are noticeably fewer electrical outlets in the portables.
"There's not a lot of plugs in those portable buildings, but the faculty have been very creative in order to make up for it," Coats said. "It would have been an expensive upgrade."
Without the upgrade for more electrical outlets, the cost of the 13 portables per year is about $240,000.
Each portable has a bathroom, sinks and its own printer. However, each portable is tailored to fit the classes' specific needs.
"For each class, our architects sat down with me and with Dr. Lawson to discuss the individual needs, and Dr. Lawson took input from the other science faculty members," Coats said.
For example, chemistry and biology portables need hot water heaters because the students need hot water for experiments. In middle school science classrooms, there are more sinks because it is more conducive to their classroom activity. For chemistry portables, there were lab tables, fume hoods, and exhausted storage cabinets to store chemicals installed to fit the chemistry classes' needs.
Lawson feels that the science faculty are very fortunate to have the portables functional, let alone specially equipped for each teacher.
"Despite all the difficulties, the school worked really hard to provide us facilities where we could continue our program as close to normal as possible, and that's huge," Lawson said. "Despite the challenges, we really were very fortunate."
-Courtney Le