Alumna Nominated as Asst. Secretary of State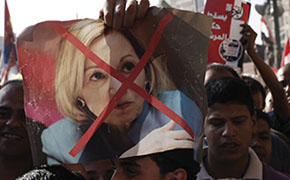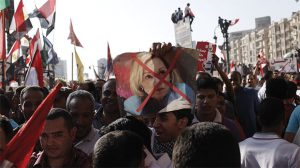 President Barack Obama nominated Anne Patterson '67 as Assistant Secretary of State for Near Eastern Affairs in August after she served as U.S. ambassador to Egypt. Patterson was ambassador following the Egyptian Revolution of 2011, when President Hosni Mubarak resigned, and then during the ouster of President Mohammed Morsi in July 2013. The Fourcast sat down with her to discuss her life at Hockaday, her career and her recent nomination, the outcome of which will be determined within a month.
As a Hockadaisy
Patterson came to Hockaday her sophomore year as a boarder from Fort Smith, Ark.
"Hockaday was immensely academically demanding and rigorous and I enjoyed that very much," she said. "Some of the teachers are truly outstanding."
Of all her experiences at Hockaday, however, Patterson said that her time in the Boarding Department was perhaps the most instrumental.
"I tell my children that the most critical experience from Hockaday was from the boarding department because I always felt it taught you how to deal with people, be pleasant to people," Patterson said.
Hockaday gave her a well-rounded education that was very interactive too, she said. "And even in the dormitories, there was a high degree of intellectual exchange."
Career
After graduating from Wellesley University with a degree in economics and attending the University of North Carolina at Chapel Hill for a year, Patterson entered the Foreign Service in 1973.
She has served in Saudi Arabia, Switzerland and then as the U.S. ambassador to El Salvador and Colombia. In 2005, Patterson served as acting permanent representative to the United Nations before being appointed as U.S. ambassador to Pakistan and then Egypt.
Patterson said she entered the Foreign Service at a time during which the federal government made a specific decision to push women forward.  While Hockaday and Wellesley prepared her the most for her career, she said, "I also came into this at a very good time for women."
After serving for three years in Pakistan, President Obama appointed Patterson as U.S. ambassador to Egypt in June of 2011, four months following Mubarak's resignation. The next couple of years would be a critical time for the country, as well as the U.S. and its changing interests in the region.
"That was hugely challenging," she said. "It was very tough, and I honestly believe that… they are going to have some kind of representative democracy, but it's going to be a long, hard fight."
Although ambassadors serve the role of implementing U.S. policy in other countries, Patterson said she had a fairly significant role in shaping U.S. policy as well because of the number of years she had spent in the Foreign Service.
"I felt like both President Bush and President Obama had to listen to what I had to say, and they would solicit my views," she said.
Taking Criticism
Secular Egyptians and many Americans have criticized Patterson as being overly sympathetic to the Muslim Brotherhood, the ruling party, after Morsi's election.
"I was an advocate for us [having] to reach out to Islamists, and certainly I was criticized a lot for this," she said. "Egypt is not going to be Denmark, so we have to reach out to these Islamists and we have to bring them into the system, and they have to participate in the democratic process. That is hugely important."
One of the times Patterson came under the most criticism was when the U.S. failed to reproach Morsi in the months following his election when he consistently undermined the democratization of Egypt by bypassing the Egyptian constitution.
Patterson partially attributes this idleness to the fact that it was Thanksgiving Day in the U.S. when Morsi made the surprising power grab by weakening the courts, the day after he successfully helped broker a ceasefire between Israel and Palestine in the Gaza Strip.
"This is a very legitimate criticism. We should have spoken up more about that," Patterson said. "People sometimes think that U.S. policy is so analytical and conspiratory, but sometimes it's just the fact that it's Thanksgiving, and things just don't get done."
Texas Senator Ted Cruz was especially one to single her out as an implementer of policy that supports the Muslim Brotherhood.
"[The criticism] honestly didn't bother me because I've been around for so long that it's not personal," she said. "Being American ambassador is not a popularity contest in any country, so you just have to go out there and do your job, and our job was to support a transition as difficult as it might be."
Although many are skeptical that democracy is best option for Egypt at the moment, given the recent overthrow of the democratically-elected Morsi, Patterson believes that democracy is the only real solution over the long term.
"There's no other choice, really, but to have the people speak. Because these societies in which they can't speak, they are essentially doomed in my view," Patterson said. "You have an economic system that's unsustainable because its built on subsidies, you have an educational system that is nonfunctional, and after all these years of growth you have still 50 percent of the population in poverty. This can't be sustained in the modern world, so there has to be some kind of system for the people to articulate their needs."
Looking Forward
While Patterson recently served as the ambassador to Egypt, if confirmed as Head of the Bureau of Near Eastern Affairs, she will face the chaos that engulfs the entire Middle Eastern region, notably Syria.
Patterson believes that some form of American military intervention or strike is absolutely necessary in Syria. "First because chemical weapons have been banned since the First World War, and the sort of international standard on chemical weapons" has to be maintained, she said. "And second being U.S. credibility and the fact that if we don't make a response, the repercussions in the region could be severe. We'd look weak and we can't look weak."
Patterson understands Americans' skepticism considering the potential for escalation, America's recent involvement in the region and the risky nature of supporting the opposition given some links to extremism, but still believes it is in our national interest to take military action.
"We cannot be powerless in this part of the world because it will have repercussions that we simply can't predict," she said.
Patterson mentioned that in a previous interview with a reporter, she was asked "why is it always on us?" She said, "It's always on us because we are the United States of America. And that's just the answer. We can do things that nobody else can do."
Regardless, Patterson says this transition which  the entire region is going through will take decades. "We should not be under any illusion," she said. "This is going to take years and years."
In Patterson's opinion, the U.S. and the rest of the international community have to do everything they can to build up the moderate forces, both military and civilian, that exist in the Middle East. In addition, she believes there is a balance to strike between maintaining U.S. credibility while also having domestic support.
"The key is being engaged and staying relevant to the situation, and in Syria we're going to have to do that," she said. "It's going to be so frustrating and so full of reverses, but we have to stay involved in these countries."
Patterson said she hopes to bring some more rational stability to the Middle East before leaving the Foreign Service. She's deeply interested in the access these countries have to the U.S. market and also strives to make the U.S. more efficient in its delivery of some of its programs to these countries.
"My expectations are modest because I know the situation is hugely complex," she said.
Hockaday looks to Patterson with admiration and pride in knowing that it has produced such a remarkable world leader.
"She is a woman of great accomplishment and intellect, and it is wonderful to see her recognized with [a nomination for] this most important position," Eugene McDermott Headmistress Kim Wargo said. "At a time when there is great turmoil in many parts of the world, it is affirming to know that a Hockadaisy is using her leadership and wisdom to make a difference in world affairs."
-Anisha Anand