Science Department Kicks Off Year with New Head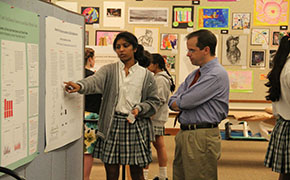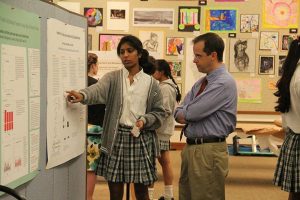 Dr. Marshall Bartlett, former Physics Department Chair at Hollins University in Virginia, has begun this year as the new Science Department Chair, filling the position previously held by Lyda Hill '60 Distinguished Teacher Dr. Beverly Lawson. He is the first faculty member in the Science Department to hold a doctorate in physics, which Lawson said lends him some "gravitas."
Last year, Eugene McDermott Headmistress Kim Wargo conducted a national search for candidates. After on-campus interviews and meetings, Wargo chose Bartlett due in part to his previous experience at Hollins University, a small, private women's college in Roanoke, Va.
"Because of that experience, he brought an understanding of some of the things that make a girls school unique, particularly in the area of the STEM fields," Wargo said.
Bartlett decided to make the switch to teaching at the secondary school level to have a greater impact on his students by "[getting] my hooks into students a little bit earlier," he said. "I was looking for an opportunity to teach students who were a little more open to new experiences and ideas."
At Hollins, where Bartlett managed two part-time and two full-time faculty members, he discovered his love for academic administration and was looking for a position that would offer him more administrative opportunities. A connection between Hollins and Hockaday, via Lyda Hill '60 (she serves as a member of the board at both schools), made Bartlett aware of the opportunity to be the new Science Department Chair.
Now that he is settled, Bartlett said he plans to act as the "support system" for the Science Department during this construction period.
Physics professor Jianing Han, Bartlett's former colleague from Hollins, said that "[Bartlett] has very good communication skills. He will talk about things and make you feel comfortable."
Hockaday faculty members who've interacted with Bartlett have gotten a similar impression.
"We've had some very interesting conversations about teaching," Lawson said. "I liked what he had to say, and I think everybody did."
Bartlett plans to build on projects already in motion at Hockaday such as the burgeoning research program as well as contribute plans of his own. One idea he has is the integration of the sciences because he said the most challenging and interesting problems exist along the boundaries between fields. He hopes the new building will facilitate this interaction not only among the sciences but also eventually between the sciences and the arts as well.
Despite his administrative role, Bartlett said his first love will always be teaching. This year, he teaches freshman physics, AP Physics B and astronomy, a class he said he is particularly excited to teach.
"There's just an energy you get from interacting with students and helping students see ideas that have been really powerful in your own life," Bartlett said. "My overall objective is to help the students here at Hockaday gain the confidence that they can do hard things."
– Mary Clare Beytagh