After School Program Implemented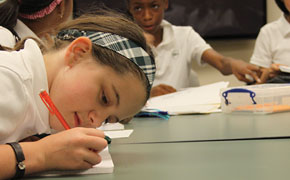 A new program features a variety of creative courses for Middle Schoolers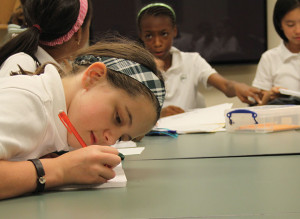 For Middle School students, staying after school used to mean cold libraries or a cramped Hoak Portico. But not anymore. With the new Middle School after-school program, girls can put their creative energy to good use.
The program allows girls to choose from a multitude of activities that feature Steampunk Art with Visual Arts Chair and Middle School Art Teacher Susan Sanders to Sew This! with Lower School Technology Chair Kathryn Townsend.
Head of Middle School Linda Kramer said the program was created simply because she and the administration "saw a need for it."
"I know that some kids who stay after school need the study time, but not every day for the whole year," Kramer said. "I wanted to give them some fun and interesting options, some choices to make."
Although Kramer supported the new system, she insisted that the real mastermind behind this operation was Director of Auxiliary Programs Melissa Curtis, who "was more than happy" to take on this task.
"I think it's a really great program, and everyone, parents and teachers, is very excited about it," Curtis said. "Not only does it provide the school with another source of revenue, but it provides alternate resources for the girls and their parents."
Middle and Upper School teacher Glenys Quick's enthusiasm is on par with that of Curtis's. Quick's after school class, Shorts!, will teach the girls how to write, direct and star in their very own films, which will be presented to the parents at the end of the session in November.
"I really hope the students learn something and take a lot away from the class," Quick said. "I'm interested to see what [the students] can do."
But it's not just the teachers who are excited—students already enrolled in this semester's courses are enthusiastic as well.
Sixth-grader Emily Stephens is participating in Quick's club. Even after her first day, she knew she was really going to enjoy the class.
"Homework only takes me abut an hour, so I like the class because it gives me something fun and interesting to do," Stephens said.
Stephens mother, Carrie Butler, also thinks that the class is beneficial for her daughter.
"Any supplemental exposure to programs in the arts is appreciated and great for the girls," Butler said. "It's a real opportunity for them to flex their creative muscles and get a taste of a very specific art form."
Butler added that this class fills the hour and half gap between the end of school and her daughter's other extra-curricular activity, gymnastics.
"She doesn't have that extra library time anymore between school and gymnastics," Butler said. "She loves the class, though, and it is teaching her to juggle different activities and manage a somewhat tight schedule."
In addition to the film club, six other classes are offered: Steampunk Art with Sanders, Painting also with Sanders, Sew This! with Townsend, Dallas Children's Theater with representatives from the theater, STEAM Fun! with Lower School Science Teacher Amy Banks and Model Citizen, a class that shows the upsides and downsides to being a model with Harriett Kelly, a community partner working in the after school program.
According to Curtis all these classes have been well received. Middle School girls participating in sports have either considered quitting or begged to do sports and after school classes.
But as soon as these requests started rolling in, Curtis immediately came up with some possible solutions.
"We are definitely looking to incorporate some clubs that involve more movement," Curtis said. "For example, we are pretty set on doing a running club, and we've even been considering tae kwon do."
Besides incorporating more physical activities, Curtis has other goals for the future of the program.
"The good thing about programming like this is that you can change it," Curtis said. "So if you find that something is not working, you have the flexibility to alter the structure."
Curtis predicts that her biggest challenge and largest goal will be keeping the classes fresh and maintaining a good variety to hold the girls' interest. She is also working on a community service aspect for next year and is planning on extending the entire program to Lower School students.
Even students already have suggestions for classes, from sculpting and baking to professional gaming.
The cost of  classes ranges from $250 to $375, depending on how many days the class meets per semester. Certain classes meet three days a week, while others only occur once per week. The hours of each course also vary: from 3:30-4:30 p.m. or 3:30-5 p.m.. Registration is done online through the Hockaday.org parent portal.
Despite potential improvements and changes, Curtis is pleased with the program's debut and is sure that it will continue to benefit the school.
"Everyone is very excited about the new program," Curtis said. "And with that enthusiasm along with the content being taught, I think the girls are going to have a great time."
-Alexis Espinosa