HAARTS Celebrates Centennial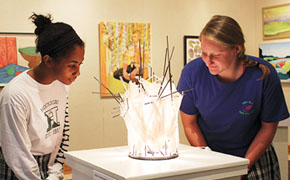 In honor of Hockaday's centennial, this year's Hockaday Alumnae in the Arts program will extend further into Hockaday curriculum than just one assembly.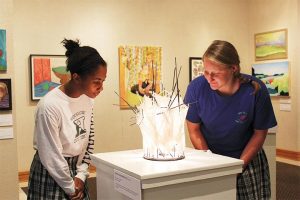 HAARTS, inaugurated more than a decade ago, highlights alumnae that have chosen a career in the arts and showcases their careers to Upper School students.
Students will attend a panel discussion Sept. 27, where they will get to meet the alumnae. In past years, there have been themes for the art form that was spotlighted such as literature, art historians, television, radio and music.
But, according to Amy Williams-Monier '73, chair of the HAARTS Committee, the alumnae this year are not restricted to one genre. The program's primary goal is to display "talented artists" who have attended Hockaday.
The visiting alumnae this year are Tess Bilhartz '02 and Allison V. Smith. They each specialize in different art forms. Bilhartz paints; Smith photographs.
Bilhartz, daughter of Upper School English teacher Janet Bilhartz, attended Haverford College in Pennsylvania for her Bachelor of Art degree and Boston University in Mass. for her Master of Fine Arts degree. Now she has a studio space and lives in Brooklyn, N.Y.
Smith, the aunt of seniors Augusta and Ali Aston, attended Hockaday until sixth grade in '82 and graduated from the Episcopal School of Dallas in '88. She later attended Southern Methodist University. She now sells her photographs and is represented by Barry Whistler Gallery in downtown Dallas.
Although both alumnae ended up in the art business, they decided to pursue it at different times. Bilhartz didn't go into college, thinking that she wanted to make a career out of art, but she "got more interested gradually." Smith knew earlier—"since tenth grade"—that she wanted to be part of the art world.
In past years, students only interacted with the artists at a panel discussion assembly, with the opportunity to eat lunch with them afterwards.
But this year the visiting alumnae will visit classes after the panel discussion. Bilhartz will visit Thursday and Friday and will hold workshops for activities such as drawing and printmaking. She said she looks forward to interacting with Hockaday students and being able to see and help them work.
Due to a prior commitment, Smith will return to Hockaday in the spring to visit classes and hold a workshop with photography students.
Sticking to the all-inclusive theme for this year's event, an exhibition of artwork featuring over 50 alumnae is currently displayed in Purnell Gallery. The exhibition is a compilation of paintings, sculptures and photography. As part of the centennial celebrations, the exhibit will continue until Monday.
In the past, parents or fellow alumnae were invited to a discussion at night, but this year the focus is on the students' assembly.
"I think it is important," Smith said, "for young students to see a working professional in a business that maybe they inspire to be one day."
-Megan Philips