And roll the film! After a nine-year hiatus, the Hockaday Fine Arts Department is offering a film studies course as an elective for students this year.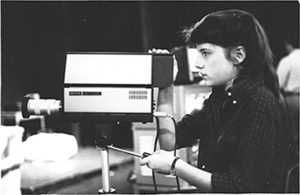 Glenys Quick, Middle and Upper School Fine Arts teacher, is in charge of the class, which takes place in a new computer lab decked out with seventeen Apple Macintosh desktop computers in the Liza Lee Academic Research Center.
Quick teaches four film classes, including Photoshop Animation and Visual StoryTelling to seventh and eighth-grade students and Beginning and Advanced Film Studies in Upper School. In addition, Quick also teaches the Intro to Journalism class in Upper School and a filmmaking class, Shorts!, as part of the new Middle School after-school program.
Each film class will work on projects such as action sequences short films, and documentaries.
Quick is using the advanced ProCutX program for all of the classes' editing purposes. Handheld camcorders and cameras are used by the beginners and for smaller projects, but Quick said that they have access to more advanced cameras like professional Sony and Panasonic video cameras and three digital-lense reflex cameras.
According to Fine Arts Department Chair Ed Long, Hockaday began offering the class when he first started working at the school in 1971, and he taught the class.
Over 40 years ago, Long's film class published Montage, "one of the first video magazines of any school in the country," according to Long.
The class remained in session for 33 years, ending in 2004.
Though he did not mean for the class to end, Long attributes the temporary leave of filmmaking to orchestra. "The class just couldn't sustain itself without more faculty support," he said.
Once the class ended, any girl looking into film studies had to look elsewhere, specifically to Hockaday's brother school, St. Mark's.
Sadie Lidji, a sophomore taking Advanced Film Studies, took the film course at St. Mark's last year.
While she enjoyed the class, Lidji admitted there were inconveniences to taking an off-campus class. "I didn't have a single Y-period last year due to the class," she said.
There are significant difference between the Hockaday and St. Mark's film courses.
Firstly, Hockaday's longer class times allow for a more relaxed pace than that of St. Mark's program. Secondly, at St. Mark's the class followed a book, Understanding Movies by Louis Giannetti.
"I did not require a specific textbook because I think one textbook does not suit all students," Quick said.
Instead, the girls are given access to a number of books with subjects ranging from the history of film to the theory and practice of cinematography.
Lidji said that not using a textbook at Hockaday changes the outline of the class. "It's more casual and we spend a lot more time watching and discussing short films in class."
But what suddenly brought the course back to the Hockaday campus?
Quick explained that the course was revived at Hockaday because "it just wasn't right that girls had to go to St. Mark's for [the class]."
Quick also added how the film industry is "booming" amongst younger people because it is so easy to make films now and "it just seemed to be the time."
Quick also said that in 7th and 8th grade photography, the girls' ideas were leading to moving images, but they just never covered that, so in a way it was "cramping their style." She thought that it was too restrictive not to let the girls work with moving images.
Overall, the class has been anticipated by both teacher and students.
Lidji has been hoping Hockaday  would revive its film program for quite some time.
"Actually learning about the craft that I want to pursue as an adult is the highlight of my school day," Lidji said. "I feel really lucky that I get to take this class for the majority of my high school experience."
-Sydney Yonack