Family Game Night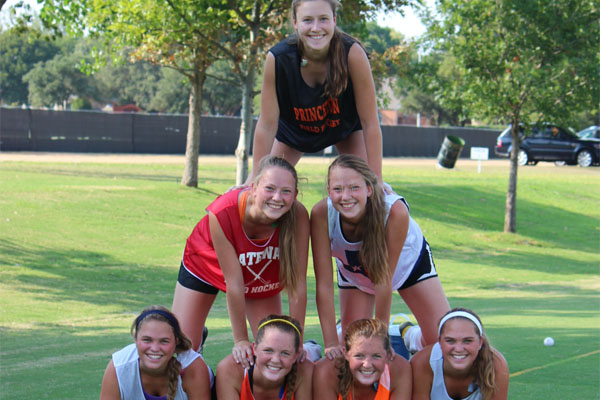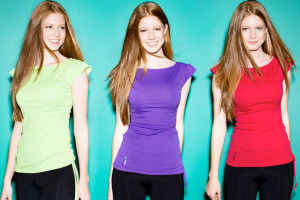 Jerseys stained green, sticks in hand and steps in sync, the Astons, McGeochs and O'Briens head home after another satisfying day of practice. For the first time in Hockaday's history, three sets of twins dominate the varsity field hockey team.
Sophomores Alexandra and Caroline McGeoch, as well as their elder sister senior Catherine McGeoch, seniors Ali and Augusta Aston, and seniors Cate and Gretchen O'Brien, all bring something truly special to the team: a bond of sisterhood.
Like a Family
With so many sisters on the team, the girls are closer than ever before, which is something that varsity field hockey coach Jennifer Johnson greatly appreciates.
"Having someone there that knows your style of play right off the bat helps a lot," Johnson said. "As we add new players in, we're trying to learn each other's tendencies, but the sisters already know all that."
From the little league soccer fields to the Hockaday fields, the McGeoch sisters know each other better than anyone else–and not just as sisters, but as skilled teammates.
"My middle school lacrosse coach thought Alexandra and I had telepathy because sometimes we would pass to each other without looking," Caroline McGeoch said. "I don't know how we knew that the other one was there."
The three families bring all sisterly aspects to the field: irrelevant arguments, yelling and screaming, joy from success and tears from loss. But most importantly, the sisters carry a strong support system for one another, which reflects onto the rest of the field hockey family.
Junior Morgan Allen has no sisters on the team, but she feels the influence that the twins bring. "When the going gets tough, we will still be there for each other," she said.
Johnson believes that a sister and a teammate go hand in hand; in many ways, one completes the other, creating the family aspect. Both sisters and teammates offer constructive criticism.
"We're teaching the girls to rely on each other and support each other," Johnson said. "We want them to be there to offer constructive feedback, but also be there to celebrate the good things that happen."
Friendly Competition
The twins have grown up with a best friend since day one. They act like one another, speak like one another and finish each other's sentences. But, there are some days where it's not rainbows and butterflies. Every now and then, the Astons argue over who gets to drive the car to school, while the McGeochs fight over the last packet of Goldfish sitting in the pantry.
During practice, the rivalry doesn't cease. "I think I get a little more competitive with Caroline because she's my twin," Alexandra McGeoch said. "I'm not nervous about roughing her up."
When it's game time, however, the Astons and the McGeochs put aside all their disputes and focus on contributing to the bigger picture. "When you're on the field, you're in game mode; everyone there is a teammate," Augusta Aston said.
Support System
On and off the field, the McGeoch twins look up to their older sister for support and encouragement. Playing the role model that any elder sister should, team captain Catherine McGeoch provides advice and encouragement to her sisters. "During the gauntlet last year, Catherine was running with me and encouraging me by saying 'you can do it' and 'don't give up,'" Alexandra McGeoch said. "It's really helpful."
If the sisters were to take their rivalries to the field, it would throw off everyone's game, since the siblings build the foundation to this field hockey family.
"We're always supporting each other and competing together," Augusta Aston said.
During games, the O'Briens rely on one another and work together to hold the defensive line. "I count on Gretchen a lot on the field," Cate O'Brien said. "Sometimes I'll be defending a girl and Gretchen will come up. We do a double team and I think that's cool because she's my twin."
Caroline McGeoch believes that playing and practicing field hockey with her sisters is a good bonding experience.
"We try to help each other improve individually first, and then by doing that, the team as a whole can be better," Caroline McGeoch said.
With the November Southwest Preparatory Conference tournament approaching, the girls are hoping to use their relationship to build their skills, improve their game and finish the season in first place.
"I think we'll be closer together as a team and even more comfortable with each other," Cate O'Brien said. "We support each other as a group to rise up to that challenge of getting first place."
-Inaara Padani
Correction 7.30.13: Photos for this story were incorrectly attributed to Gretchen O'Brien. The photos were actually taken by senior Audrey Kim.