Creativity for Peace May Return Next Year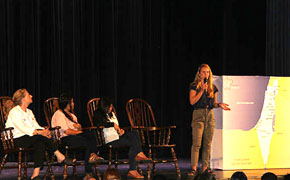 The assembly in which three young women shared their experiences and perspectives on the Israeli-Palestinian conflict may become recurring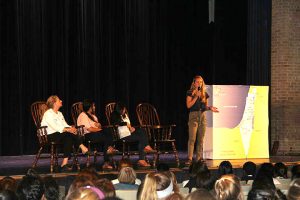 On Oct. 9, three of Creativity for Peace's Young Leaders traveled to the United States and stopped by Hockaday to speak about their personal transformations after living in violence and conflict.
According to the Creativity for Peace website, Creativity for Peace is a non-profit organization which hopes to prepare young Palestinian and Israeli women to establish peace in their communities by breaking down barriers of anger and prejudice and fostering mutual understanding.
In fulfilling its hope, Creativity for Peace holds a camp every year during the summer to bring young women from Palestine and Israel together. Young Leaders are former campers who have made peacemaking an important part of their lives. Jwana Ghaleb from Jenin, Palestine; Shirit Milikovski from Sderot, Israel; and Mai Shbeta, from Neve Shalom/Wahat al Salam, Israel are the three young women who spoke during the assembly.
These young women came to the United States for a speaking tour in Santa Fe, Albuquerque, N.M., Dallas and Houston. They visited faith communities, libraries, universities, high schools and other venues for 12 days between Oct. 2 and Oct. 13.
Some of the places they visited were the George W. Bush Presidential Library, Booker T. Washington High School and St. Michael's Church.
The focus of the tour was to introduce American teens to methods for combating violence in their homes, schools and communities and to inspire them to become involved in social justice on a global level.
The tour proved to be successful, as the assembly deeply affected and inspired most of the girls in the Hockaday community.
Junior Sarah Zhou said that listening to the young women's experiences allowed her to "sympathize with those who have faced this type of reality" and made her "want to support the organization."
Senior Emily Marucci said, "The assembly gave me a new perspective on the struggles people in the Middle East face within their own people and between groups."
Although Zhou and Marucci had learned about the Israel-Palestinian conflict in history class, they had never experienced it on a personal level. The assembly not only impacted girls like Zhou and Marucci but also changed the perspectives of those whose families are from the Middle East.
Sophomore Talia Meidan said that she was "slightly biased" coming into the assembly, because her father is from Israel, but the talk made her "realize that Palestinians also have suffered in the conflict."
According to Meshea Matthews, the Dean of Student Life at Hockaday, Creativity for Peace may be returning next year depending on how schedules work out.
 Marucci hopes that Creativity for Peace will come back next year, because "it exposes Hockaday students to a conflict that we don't often get to hear about."
Students who are interested in and seek more information about Creativity for Peace can go to their website or join its Facebook group, called "Creativity for Peace Homies,"opened to high school students who feel connected to its work.
– Catherine Jiang