Wargo Has N-Oz-talgia
Now that the eighth-grade musical has passed, Kim Wargo reflects upon her time as Dorothy Gale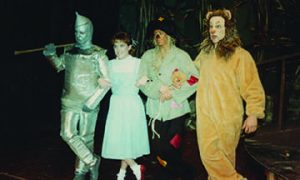 Almost every Hockaday student has either watched the story come alive as a Hockaday musical or in the movie itself. The Kansas girl donning a plaid and blue dress and braids remains a favorite. This year's eighth grade musical is "The Wizard of Oz."
Eighth-grader Anna Taglioli played Dorothy in Hockaday's newest adaptation of the tale, which ran Nov. 1 to 3. Taglioli has played the piano for 10 years and works with an acting and vocal coach. She has participated in other musicals at the Plano Children's Theater including "Willy Wonka," but this will be her first lead role.
"I think all the choreographing together has really brought us together as a grade," Taglioli said. "I'm not exactly the best dancer, so I've had to work a lot with Ms. Wortley, but she has taught me really well."
Hockaday has been home to many individuals cast as Dorothy, including Eugene McDermott Headmistress Kim Wargo. Wargo grew up participating in theater, acting for both her school and the amateur theatre in her hometown of Baker, La.
As a junior in high school, Wargo was cast in her first lead role as Dorothy. But it was not until she missed the deadline to learn all of her lines by heart that she understood the significance of her role.
"I guess I just didn't really realize how important that was to be responsible as the person who had the most lines in the show to set a good example until that day came and went," she said. "It was really a wake-up call for me to realize that if you are going to be the person in front, then you have to set a good example and be a role model to everybody else."
Lindsay Dolan '08, who is currently a PhD student at Columbia University, played Dorothy in her class production of the eighth grade musical in the spring of 2004. She speaks of her memories fondly: "The eighth grade musical was one of the moments at Hockaday that most clearly crystallized how lucky we girls were."
Dolan said that performing prepared her for experiences in the workforce. "Now, I try to muster the same kind of energy I used on the stage when I'm teaching a class or presenting a paper at a professional conference," admitting that she has broken into song during a few presentations.
Perhaps the girls in green plaid will make use of their walk down the yellow brick road as well. As Glinda the Good Witch of the South says, "You've always had the power my dear, you just had to learn it for yourself."
– Austria Arnold