Carlyn Ray Plans Centennial Project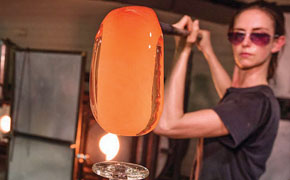 The new Centennial Center's integrated arts and science building, set to open before next school year, will feature an art project that will incorpo­rate the designs, ideas and works of every stu­dent here at Hockaday, specifically the seniors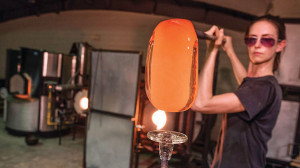 Carlyn Ray, a professional glass blower, will spearhead the project, and the senior class will have an especially prominent role in the design of this art piece, as it is the senior class gift.
After speaking to the entire up­per school, Ray addressed the senior class about specific ideas she had in mind for the art project. Seniors then voted on general ideas and themes for the art project by ballot. "It's kind of a growing design, that's kind of morphing, and people bring new ideas to it," Ray said.
She hopes to speak with more seniors within the near future in individual groups to gain a better idea of what the senior class hopes to see in this new project. She'll meet with an art class as well as a science class and fuse design ideas from both when creating the proj­ect. The first group of girls will start narrowing the ideas the senior class voted on, and the second will work off of that and add new ideas.
After reviewing a compilation of these ideas and designs, Ray will then consider other factors such as cost, feasibility and how all the girls can participate.
Visual Arts Chair Susan Sand­ers is also heavily involved in this project. After reviewing the seniors' bal­lots, Sanders said seniors are leaning towards some­thing very con­ceptual right now and not s o m e t h i n g that is too concrete of a symbol.
"The gift isn't just the project, the gift is the process," Sanders said. "That's a really far reaching oppor­tunity for everybody so I think that's very nice."
She is still considering various ways in which each student from Pre-K thru twelfth grades can have a mark on this art project. Each Lower School student could either be working on her own individual part or perhaps with the guidance of another, older student. But it all depends on the design the senior class will be choosing over the next few weeks.
"I would like it so that everyone creates a piece that would fit into a whole," Ray said. "That way girls could actually have individualized pieces and would be able to locate their piece on the whole piece."
The Advanced Studio Art stu­dents will be working more on the planning aspect of this project to narrow down the ideas.
Advanced Studio Art student senior Alex Ludwig is particularly drawn to the idea of using glass and light for the project.
"I think the idea of working with glass is very cool. Not a lot of people get to do that, so that is defi­nitely going to be very interesting because we can do so many differ­ent things with it," she said, "Light would probably involve the entire room. So that would make it more fun, and it would draw more atten­tion to the actual project itself."
Ray hopes this will be finished by the end of the school year, even though the integrated arts and science building won't be com­pleted until the end of the 2014- 2015 school year. During that time, Ray would like to see a portion or a model of the piece on display for the public somewhere so the girls can actually see what it is like put­ting it together.
"It's definitely going to be inter­esting watching everyone join in to do this project," Ludwig said. "It commemorates the whole centen­nial year and we want to combine the whole art-and-science aspect of it, since we are reconstructing the science and fine arts building."
The art project may not be a smooth ride, but Sanders knows it will be worth is for everyone.
"It's not a perfect paradigm, it's just not possible," Sanders said. "But I think that at the end of it, its going to be a really great experience."