Alumnae Recount the Assassination of President John F. Kennedy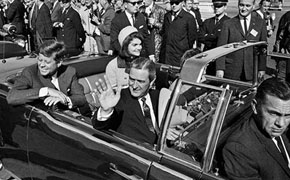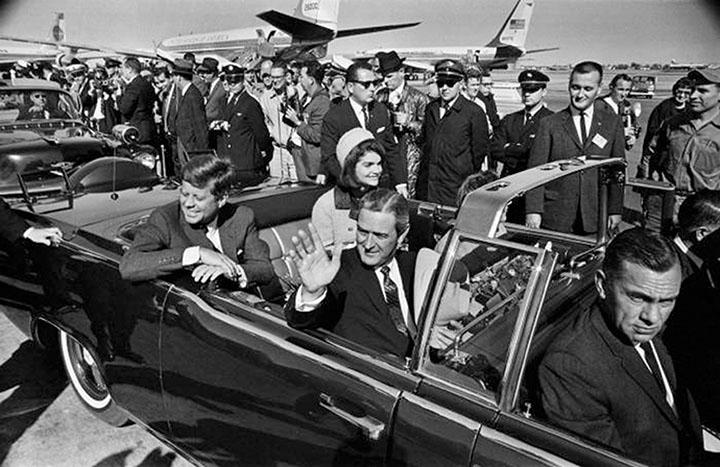 Natalie "Schatzie" Hen­derson Lee '50 was get­ting ready to attend a luncheon at the Trade Mart with Operation Support, a campaign dedicated to inform­ing the public of and support­ing President John F. Kennedy's legislative policy. It was Nov. 22, 1963. The television was on, and a news reporter was describing why Kennedy was leaving Fort Worth's Hotel Texas through the kitchen. They did not want a sur­prise assassination like the one that had killed President Wil­liam McKinley in 1901.
Lee said the reporter used a phrase like "and then he was dead." Hearing this, Lee's three-year-old son asked, "Is the president dead, mom?" to which she replied, "No. That was a president long, long ago." After the lun­cheon, however, she would have to tell him otherwise.
At the luncheon, Lee sat above in the balcony level while her husband George, a member of a different Democratic or­ganization, sat below. Ev­eryone was waiting for the president to arrive.
"Time went by and time went by, and the President hadn't arrived," Lee said.
At the same time, Cathey Greenfield '64 was sitting in her senior Latin class when some­one came through the door and told the class that President Kennedy had been shot. The class then went across the hall to the history classroom and watched reruns of the assassi­nation on television. Even then, Greenfield said the news didn't sink in immediately.
"It was so surreal because you don't expect something like that," she said. "No one had ever been assassinated in my lifetime. That was history."
However, this was history in the making, and Greenfield was closer to the action than most. Her father, a staunch Re­publican, was friends with fed­eral judges Irving Goldberg and Sarah T. Hughes, who swore in Vice President Lyndon B. John­son on Air Force One at 1:38 p.m., just over two hours after Kennedy was assassinated.
"All of a sudden," Green­field said, "this was history, but I knew these people."
The next day, Lee's for­mer classmate Manny Ber­gan Tollefsen, who had been a Norwegian exchange student at Hockaday in 1955, wrote a letter to Lee. In the letter, she expressed the common grief over Kennedy's death even in a "small, way-off country like Norway."
Four thousand miles away, her sentiments echoed those of the American people.
"It is simply un­believable that he is dead," she wrote. "Losing President Kennedy almost feels like losing a close friend."
Although they were of opposing par­ties, Lee and Green­field felt the same way about the loss of such an icon.
"At the time, it was a crisis. We lost Camelot," Greenfield said, referring to the popular phrase Jacqueline Kennedy coined to describe the Kennedy administration and its idealism.
As Tollefsen was writing the letter, she saw on TV that Dallas nightclub owner Jack Ruby had shot and killed Lee Harvey Oswald, who was be­lieved to be the sniper who fa­tally shot Kennedy. Although there have been many con­spiracies surrounding Ruby's actions, his motives have never been confirmed.
Responding to this inex­plicable event, Tollefsen said, "Seems like Dallas has returned to the Wild-West times again."
Greenfield also saw the shooting of Oswald on live tele­vision. She had known Ruby's name because she used to drive by his clubs downtown.
"It was not like a movie or anything. It was just grisly. To watch a man die live on TV, we didn't do that in those days," Greenfield said.
After the incident, both Lee and Greenfield witnessed the world turn against Dallas. Although Greenfield said the event did not affect her much beyond the six days she got off school (during which she most­ly watched television coverage of the event), when she went to the University of Colorado the next year, many judged her because she came from Dallas, she said.
"Everybody blamed every­body in Dallas like you had personally planned to kill the President," she said.
Greenfield said it was strange to go to a new place where everyone greeted her with suspicion and pulled away. This lasted through the middle of her sophomore year, she said, and "really put a pall on things."
Similarly, when Lee's hus­band went golfing in Arizona in the spring of 1964, the caddy would not carry his bags be­cause he was from Dallas. "They still do treat us pretty bad," Lee said in a 2013 interview for the Sixth Floor Museum's Oral His­tory Project.
Despite this continuing sentiment, Dallas now prepares to commemorate the 50th anni­versary of Kennedy's death.
"It's important that the city of Dallas has a strong voice in remembering this very solemn day, and that we reflect upon it with the sense of history and dignity it deserves," Mayor Mike Rawlings said. "This will be an event to rejoice in the re­markable life, legacy and lead­ership of John F. Kennedy and to show that the city of Dallas remembers what a great loss it was for the entire world."
Lee stressed that this event is a commemoration, a posi­tive approach to remembering Kennedy's life.
"We would really be at fault if we did nothing," Lee said.
Greenfield, on the other hand, said she does not care about the commemoration be­cause the media memorializes him every year. But Greenfield did agree that it changed the at­mosphere of Dallas and the U.S.
"The world was different then," she said. "In those days, we were much more naive, not so worldly."
To put the extent of the change in perspective, she cited the show Dragnet, a radio, tele­vision and motion picture se­ries about the cases of Los An­geles police detective Joe Friday that was popular at the time.
"They always caught the bad guy," she said, "but you nev­er saw anyone shot. Everything was so simple, and it was safe above all."
This is why Greenfield said this particular assassination was so shocking.
"A lot of people have been shot since then," she said, "but no one has ever made the im­pact that Kennedy did."
-Mary Clare Beytagh