In Our Saddle Oxfords
Upper School Head John Ashton spent a day in the life of a Hockaday Upper School student
Sitting on the floor with the entire junior class at a Form Meeting, sneaking in a cup of coffee before D period and sharing homecoming stories at lunch, Head of Upper School John Ashton spent a few days in the shoes of Upper School students.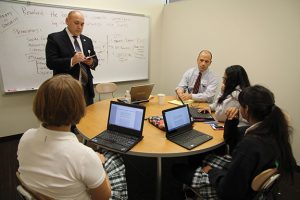 This semester, Ashton, followed his own initiative, and shadowed one student from each Form for an entire day.
Wanting to gain a better insight into the daily routine of Upper School students, Ashton came up with the idea this summer that he would shadow students throughout their normal school days.
"I just had a lot of questions over the summer about what being a student at Hockaday now was actually like, and this was the only way to get answers," he said.
Starting with Form IV, Ashton spent the day with senior Katie Williams on Sept. 16, attending her classes, advisory, club meetings and even lunch with her and her friends.
"I tried to be as normal as possible and talk about what I always talk about with my friends—boys, homecoming, parties—all of that, so he could get the full experience," Williams said.
She volunteered to be shadowed to show Ashton how busy her schedule of four solids in one day is.
"I really wanted Mr. Ashton to see how hectic our days can be, and also I really just wanted to spend the day with him. I thought it could be really fun," she said.
Ashton also shadowed junior Molly Nelson on Sept. 30 and sophomore Aleena Tariq on Oct. 24. He will shadow a Form I student on Dec. 5.
These girls were randomly chosen by Ashton. Close to a dozen girls from each Form volunteered, and Ashton drew their names out of hat.
"I think he's reaching out and trying to connect a little more, bridge the gap, and I really appreciate that," Nelson said. "He was taking notes the whole time and always asking us questions. He really cared."
Ashton will compile his notes from his experiences into a summary, which he plans to share with the whole school.
As a result of his time with the students, Ashton now feels he is in a better position to make decisions on behalf of the Upper School student body.
"To shadow you girls was helpful to really understand how your day is so I can now make decisions with your experiences in mind," Ashton said. "For example, I'm even more sensitive to schedule an assembly on a day that is not a Day 6."
Ashton was also glad to see how little of high school had actually changed since he attended.
"One thing that was refreshing for me to see was how much being in high school was still common across generations," Ashton said. "There are still those common conversations happening about friends, boyfriends and social activities, and it was refreshing to see students taking time to have fun during the day."
Though Ashton doesn't predict any major changes as a result of this experiences, he believes it was a success and will have a positive impact on the way he leads Upper School.
"I really enjoy spending time with you," he said. "Any opportunities that I have to be with students and spend time with you is where I draw my energy from to then go back and be an administrator."
– Avita Anand