Centennial Day of Service Approaches
Students from all three divisions commit to a day of service across Dallas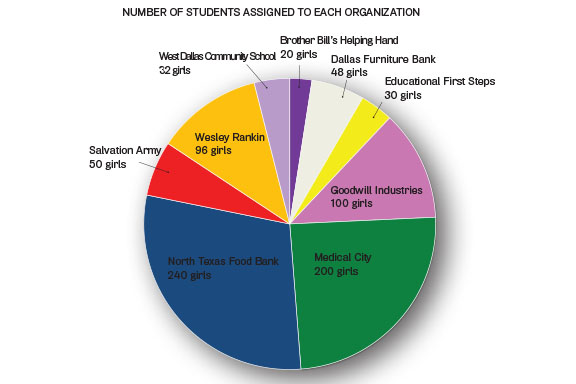 In appreciation of being a part of the Dallas community for the past 100 years, Hockaday will participate in the Centennial Day of Service on Nov. 13. Six thousand hours have been pledged.
The entire community, including parents, teachers and alumnae will join together to serve the Dallas community by participating in various projects designed to help partner agencies and make a positive impact on the Dallas community.
"Hockaday thinks it is so important to give back to the community, and our efforts make such a great impact on our community," Director of Service Learning Laura Day said.
Executive Director of Jubilee Park and Community Center Ben Leal said that Hockaday's service definitely makes an impact on the organization. "The support we receive from The Hockaday School is an invaluable resource to those we serve," he said. "The key to ending the cycle of poverty is education, and with The Hockaday School's support, we are improving lives and strength- ening our community."
Hockaday's Day of Service concept began with the idea that the school needed to do something unexpected. "Not many schools participate in a day of giving back to the community, so [the Community Service Board] thought that it would be a great idea," Community Service Board Chair senior Lucy Wilson said.
The morning of Nov. 13, after a short 8 a.m. advisory meeting, the entire Hockaday community will head to an all-school gathering on Graduation Terrace for the community service kick-off, where the centennial aspect of community service will be presented and the day's projects will be introduced. Following this assembly, girls from fourth through twelfth grades will travel, by advisories, to various locations across the Dallas area. Hockaday will provide transportation to the agencies and boxed lunches at each of the organizations. The activity is required for all students.
Each advisory will be assigned to volunteer with an organization for either a full or half day, helping to complete various assignments.
Some of the jobs off-campus include bagging food at the North Texas Food Bank, making angels for the Salvation Army's angel trees, which aid needy children in celebrating the holiday season and making blankets for Jubilee's residents.
Girls who are serving for half a day off-campus will return to school and participate in activities with six organizations. Agencies will set up booths in the gym with various service-related activities that everyone can participate in.
Pre-K thru third grades will stay on campus but contribute by participating in multiple activities based on each grade's theme, such as making placemats for the cafeterias of homeless shelters.
"We want to help spark girls' interest in community involvement," Wilson said .
The Centennial Day of Service co-chairs are Lisa Hurst 84' and Karen Pollock '84.
 Hockaday alumnae nationwide areparticipating in efforts to support and serve our community. Some of the projects include a canned food drive in San Francisco, Calif. and a holiday item drive in Austin, Texas. "The goal of these events is to contribute to and inspire posi- tive change in these communities," said Priss Benbow '79, Centennial Vice Chair for Out of Town Alumnae.
For Upper School students, the hours spent at the organizations will count towards the community service hours required of each student. After helping agencies around the Dallas metropolitan area, girls will return at around 3 p.m. The next day, in advisory, there will be a reflection about the importance of giving.
The Hockaday community will wear specially designed T- shirts funded by Medical City Hospital.
Even though this event was centered on the community service aspect of the centennial, "Hockaday hopes to continue with this program in the future," Wilson said, because it is important to be an active part of the Dallas community.
– Vivian Armitage