Tree Bears Persimmons for First Time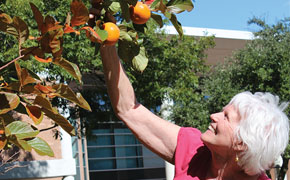 A Japanese kaki persimmon tree, located by the Lower School duck pond, blooms fruit for the first time since its planting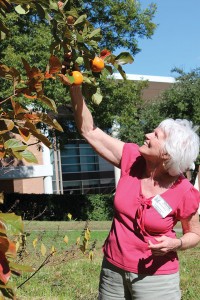 On a crisp day in October, Isnarda Lares, house­keeping staff member, was walking by the Duck Pond between Penson Gym and Lower School when she discov­ered that a tree was growing bright, orange fruits — persim­mons — for the first time since its planting 13 years ago.
The Japanese kaki persim­mon tree was brought to Hock­aday by retired Lower School art teacher Dee Mayes in 2000.
Following the U.S. bombing of Nagasaki on Aug. 9, 1945, a kaki tree was found damaged by the atomic bomb, but still alive. Msayuki Ebinuma, a tree doctor, decided to procreate a "Kaki Tree Jr." A contem­porary artist named Tat­suo Miyajima took in­terest in this junior tree, and together, Ebinuma and Miyajima created the "Revive Time" Kaki Tree Project.
Mayes discovered the Kaki Tree Project in 1999 while visit­ing the Venice Biennale, a pres­tigious modern art exhibit in Italy.
"It's kind of like a state fair, only it's a world fair of art and they do it to introduce contem­porary ideas in art," Mayes said. "Japan's whole exhibit was the Kaki Tree Project, which is a peace project."
This exhibit had paper cranes all over the ceiling, and a small kaki tree was growing in the middle, she explained.
Ebinuma began germinat­ing more second — genera­tion Kaki trees, like the one at the exhibit in Venice, from the damaged parent tree. He made these junior trees available to schools and community orga­nizations around the world.
"Basically, the whole proj­ect was made to spread the idea of peace: peace for all, including the environment, for individu­als and between countries," Mayes said. "The blooming of this tree is very touching for me because I was always work­ing towards peace by teaching tolerance in my classroom."
Interested in the project, Mayes applied for a Kaki seedling to join the Hockaday communi­ty. She believed that Hockaday would ben­efit from having this unique Japanese Per­simmon tree on cam­pus. On Oct. 25, 2000, Hockaday hosted Ebinuma, Miyajima and Sayaka Sonodo, a translator, to an event celebrating the planting of the tree. Hockaday was the first school to plant a junior Kaki tree in the U.S.
First and fourth-graders gathered around the Kaki seed­ling, singing songs of peace in Japanese and English.
Upper School English teacher Janet Bilhartz read a poem called "Persimmons" by Li-Young Lee with her Con­temporary American Litera­ture English class about per­simmon fruits in mid-October, unaware of the concurrent blooming persimmon tree on campus.
"This tree is coming from another culture, and we don't really think about things like that. So many of our fruits come from different cultures but we tend not to think about it," Bilhartz said after learning of the blooming tree. "I love that we have persimmons rip­ening right now."
Foro Lares, one of Hocka­day's ground keepers, said the tree grows naturally, without the use of pesticides and fer­tilizers. While Isnarda Lares mentioned that the house­keeping staff does not know what it will do with the fruit, Mayes hopes to continue shar­ing her legacy of peace at Hockaday by possibly creat­ing a persimmon fruit-picking and eating project for the Low­er School students.
By planting the Japanese Persimmon tree at Hockaday, Mayes wanted her young stu­dents to realize the meaning behind tolerance and the im­portance of respecting other people's opinions.
Mayes said that part of the whole project was that they fig­ured it would be about 10 years before the tree would bear fruit, so the school was expect­ing to have homegrown per­simmons in 2010.
But the tree waited until Hockaday's 100th birthday to produce fruit.
"The guidelines were that in 10 years it was supposed to bloom, and that ten years af­ter you got it, you would have a project again that was a thank you to it and was to focus back on peace," Mayes said. "I think, definitely, that our little tree chose 2013 to blossom because it is Hockaday's centennial."
– Inaara Padani