Youths United by Space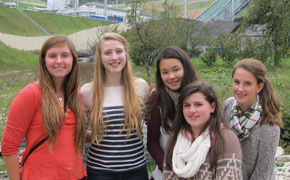 Five sophomores voyaged to Russia for an international youth forum on space and science as part of Hockaday's Global Initiatives Program. In addition to learning about outer space, the girls also gained international perspectives on global peace.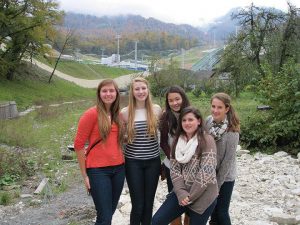 Neil Armstrong first stepped onto the moon in 1969 and said, "It's one small step for a man, one giant leap for mankind." When five sophomores first touched down on Russian land, they also felt like they made a similar giant leap.
As a part of Hockaday's new Global Initiatives Program, Lower School science teacher Lara Guerra and Anne-Marie Corley '99 took five sophomores (Sarah Chan, Kate Cooper, Allison Lanfear, Darcy Malican and Alexandra Randolph) on a trip to Russia from Oct. 11 to Oct. 20 for an international youth forum: "United by Space."
The forum sprung from the minds of the Russian cosmonauts and the American astronauts who worked together on the Soviet Union's Mir Space Station, later operated by Russia, which orbited the Earth from 1986 to 2001. Through these forums, the astronauts work with young people so that they can learn that everyone is united.
Guerra said that when astronauts travel into space and look down on the Earth, they are profoundly changed and "experience this huge shift in the way they view things. Political ideologies will sort of fall away, because they see that we're all in it together, we're on this planet and it's up to us to take care of it."
This conference was a follow-up to the first international youth forum: "The Guardians of Earth," led by Corley, which took place in Star City, Russia, near Moscow, in August 2012. This first trip was opened up to any interested students in Upper School. Sophomore Darcy Malican and seniors Anisha Anand and Anna Herbelin were accepted into the program.
According to Guerra, the three Hockaday students who attended this first trip "so impressed the organizers" that Hockaday students were invited back a second time to continue their discussion of space and environmental issues with their Russian peers.
Guerra and Corley planned this second trip together. Because Corley can speak Russian fluently, she planned the Russian part of the trip, while Guerra organized the Hockaday part. The two also worked with Elizabeth Smith, the Director of Global Education at Hockaday, in coordinating the trip.
On the first day of the trip, Guerra, Corley and the students flew into Moscow Domodedovo Airport from JFK International Airport and caught a plane to Sochi, the 2014 Winter Olympics site.
After staying in Sochi for two nights, they took a train north to Orlyonok, a Russian youth camp, about two and a half hours away, where the international youth forum was held.
Located on the Black Sea, Orlyonok, which means "Little Eagle" in Russian, was once a "Young Pioneers" Camp, a communist youth organization and the Soviet version of Boy and Girl Scouts. Today, it is a regular summer and winter camp for children around the world.
On Oct. 13, students from all over Russia came together to participate in different types of programs at this camp. The Hockaday students attended the five-day environmental portion of a month-long program that focused on the environment,  space and what people can do to protect the Earth to make a real impact.
In the forums, students asked questions to cosmonauts and astronauts currently on the International Space Station and participated in discussions about the future of space exploration and the importance of cooperation between nations.
They also learned about the Russian space program and explored the similarities and differences between the Russian and American space programs.
The Russian space program "finds ways to do things cheaper and with what they already have, and their space program works really well, while [the American space program] spends a lot of money," Malican said.
From the camp, Randolph hoped that she would gain a bigger perspective on many environmental issues and learn about what the Russians consider unhealthy for the environment "as opposed to here, [where] there's a lot of fossil fuel-centered environmental issues."
Attending the camp changed many of the girls' outlooks on the environment in space. Chan said that she "learned much about space litter and unused satellites up in space" and "realized that we need to take care of the environment."
The students interested in participating in the trip applied at the end of the last school year and were chosen based on the quality of their applications. Whether or not there will be a trip to Russia next fall depends on the feedback given after this year's trip. If there will be a trip, information will be available to students and their parents next spring.
Guerra hoped that from the trip, students would "learn to appreciate and be aware of other cultures. She also hoped that the students would be "awakened to space travel" and would enjoy "meeting kids from all over Russia, just seeing how people their age live, what they think and what they say."
According to Guerra, these hopes were "delightfully fulfilled." She said that the girls "learned far more on this trip about cultural differences between Russia and the United States than they can put into words at this time."
Both Guerra and Corley agree that the trip was "absolutely fantastic from beginning to end" and look forward to seeing the girls use what they learned on the trip and apply it to their daily lives.
"I hope the girls continue to reflect on their experiences and have a broader appreciation for other world cultures outside of their own," Corley said.
Perhaps, like Neil Armstrong, they will make more giant leaps in the future.
– Catherine Jiang