It Runs In the Family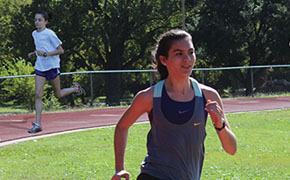 Glenys Quick's daughters follow in her footsteps
Quick believes healthy compe­tition is evident between them, but they still have their own strengths.
Adoette Vaughan is built more like a cross country runner than her older sister, who Quick said is more suited for shorter distances like the 400-meter and 800-meter races.
"There is a lot of sisterly com­petition…she is probably faster than me in cross country, but we've nev­er raced. But I'm faster than her in track," Tala Vaughan said.
Adoette Vaughan's recent time at the two mile course at Norbuck on Oct. 10 was a 12:53, and this past May her mile time in a track meet at TCU was a 5:50. Adoette Vaughan's goals include beating as many high school records as possible.
As for participating in world championships and marathons, "I don't know if I'll ever go as far as my mom, but anything can happen," said Tala Vaughan. "You never know."
On the other hand, Adoette Vaughan wants to compete at an in­ternational level. "I want to run in the Olympics," said Adoette Vaughan. A goal almost achieved by her mother for the 1984 Summer Olympics.
Even with the impressive achievements of their mother, Quick said, "I don't think they feel any pressure because they really love to run and I just give them small pieces of advice if they need it."
Quick began running during her senior year at Fraser High School in Hamilton, New Zealand, in 1973, under the ac­claimed coach Arthur Lyndiand who had previously coached several men for the 1960s Olympics. Just a few years later, in her early 20s, Quick won the New Zealand Cross Country Championships and set a national record for the 800-meters in track.
In the 1980s, Lyndiand arranged for her to travel to the U.S. to com­pete in road races, which are com­pleted on a street course. After arriv­ing in the U.S. in 1981, she was offered a track and field scholarship to the Texas Women's University in Den­ton, Texas.
"It wasn't really anything I had thought about doing because I was kind of a bit tired of running be­cause in New Zealand, it's a great place for training; the terrain is so hilly and it has great weather, but there wasn't much to keep you mo­tivated, everything was on such a small scale," Quick said.
While attending TWU, she ran in several National Collegiate Ath­letics Association Championships and the Open U.S. Championships. But in 1983, she moved on to running marathons and other middle dis­
tance track events, and placed 14th in the World Track and Field Champi­onships. Later she placed 6th in the Chicago Marathon from 1983-1985. In 1984, Quick traveled to Japan to run in the Nagoya Women's Marathon.
She won the Nagoya Marathon and qualified for the New Zealand Olympic team along with four other women who broke the Qualifying times. Unfortunately, Quick was slotted as the alternate and could not attend the Olympic Games.
After qualifying for the Olym­pics, Quick stayed in Dallas to con­tinue running competitive races for her coach, Robert Vaughan, whom she later married.
She completed her MFA in pho­tography in 1988. Upon returning from the World Track and Field Championships with her husband in 1991, Quick received several voice messages from Ed Long, Director of Fine Arts Department at Hockaday. Upon recommendation from her photography teacher, Long offered her a job as a middle school photog­raphy teacher.
Quick has not run at the profes­sional level since then, and has contin­ued to teach at Hockaday for 22 years. However, her running career has in­fluenced her current teaching style.
"I think that has given me the attitude that I known I can do just about anything. You have this strength that you know that you can do it without help from anybody," Quick said.
– Claire Fletcher