St. Mark's mascot junior Anesu Nyatanga recounts her experiences in the lion suit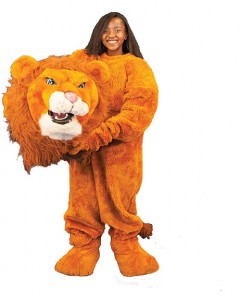 You've seen his grisly teeth, flowing mane and chiseled abdomi­nals, but most people do not know what goes on inside Lenny's large head and what it means to be Lenny the Lion.
Junior Anesu Nytanaga is currently serving her second year as Lenny the Lion, St. Mark's beloved feline friend. Why she decided to try out for mascot was merely an act of impulse.
"I actually had never been to a St. Mark's football game so I never really knew what the mascot did," Nyatanga ad­mitted. "I thought, 'It couldn't hurt to try.'" And it didn't. As­sistant Cheerleading Coach Kathy Ferguson said that, when looking for a mascot, she looks for somebody with creativity, energy and en­thusiasm—all of which were found in Nyatanga.
"During a break in the action, you always want to be watching her because you have no idea what she may do next, whether it's doing the splits or just pumping up the crowd," St. Mark's Varsity foot­ball player Elton McIntosh said. "She just brings such an exciting aspect to pep rallies and games beyond what you would normally expect from a mascot."
Not many people, though, know actually how much is re­quired to be a mascot. "I think people assume that you just [get into character] and go without preparing," Nyatanga said. "There is actually a lot of preparation and planning that goes into it."
The mascot creates and performs skits, so she must fine-tune her act­ing and edit music in or­der to execute a success­ful pep rally.
Most people also do not know that there is a strict set of rules stated in the National Cheerlead­ers Association hand­book that mascots must follow while in charac­ter. The two main rules that Nyatanga empha­sized were to never speak unless to police officers, coaches or the occasional cheerleader, and to always be in complete character, meaning that if she wears the body, she has to wear the head.
"I take being a mascot se­riously," Nyatanga said. "It's a real deal."
Nyatanga also said that she has gotten so much out of her experience as Lenny the Lion, and she is grateful for the friends she has made whom she would otherwise not have the opportunity to get to know. "I know that if today, I wasn't a mascot, I would not be able to say hi to some people in the halls," Nyatanga said.
She also admitted that having the opportunity to say "I'm a highschool mascot" is pretty cool in itself. "I don't know if that's a big deal to anyone," Nyatanga said, "But it's a pretty big deal to me."
Former three-year Lenny the Lion Daly Montgomery '12 said that being Lenny changed her for the better. "I'm a much more sup­portive friend and teammate now because I spent so long cheering people on," Mont­gomery said.
But being a mascot isn't all sunshine and dai­sies. Both Montgom­ery and Nyatanga explained that they gained a lot of experi­ence with heat. "You don't know what sweat is until you're covered head-to-toe in a wool lion," Nyatanga said. "It sounds like a joke, but you should see me after a 10-minute pep rally." Montgomery also admitted that her tolerance to heat is now "unreal" thanks to her experience as Lenny.
As for leav­ing behind Len­ny at St. Mark's, Montgomery admitted that Lenny was the best part of her high school years—"No question." She said it might be the only thing she "really really [wishes] she could go back and do again… There is really nothing like it." Despite not having seen Nyatanga's very own take on Lenny the Lion in season, Montgomery said she is "really excited to see where Lenny's legacy goes."
But being a mascot means so much more than revving up a dreary crowd at a football game. "To me, being a mascot means being a main repre­sentative of the campus and school spirit," Montgomery said. She also said its means being a strong supporter of the school and team no mat­ter what the circumstances. To Nyatanga, being mascot is a lot about pleasing other people. "There are those little kids who look at you and their eyes get all big and they get so excited," she said. "I would take all the heat exhaustion, and the sweat and the messed-up hairdos just to see their faces because they are so genuinely happy and excited. It's the best payment you can get."
– Sydney Yonack