Not Horsing Around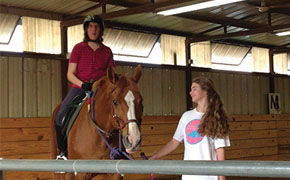 Sophomore Raney Sachs devotes her free time to volunteering at Equest Therapeutic Horsemanship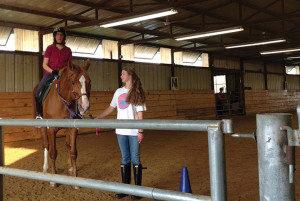 We all find a way to get a break from school sometimes. Some girls catch up on Netflix. Others go for a run. Sophomore Raney Sachs, however, spends her free time as a volunteer at Equest Thera­peutic Horsemanship.
Sachs had been riding horses for 11 years when she learned about Equest Therapeutic Horsemanship from her riding instruc­tor three years ago. Equest offers equine-assisted therapy and rehabilitation for children and adults with physical, cogni­tive, emotional and learning disabilities. Sachs now travels to Equest once a week to work with an assigned rider and horse. Sachs believes that her ex­perience as a volunteer at Equest has helped her gain a perspective on life—includ­ing school—she didn't have before.
"The riders are focusing on obstacles that are signifi­cantly more imposing than my pre-calculus homework," Sachs said. "[It's] so inspiring, and [it] makes all of my own obstacles feel a lot smaller and inconsequential."
With each therapy ses­sion, Sachs notices the rid­ers "progressively improve." At Equest, the riders develop physically, in areas such as in muscle tone and motor coor­dination skills, and psycho­logically. The self-confidence and "positive attitude" that the riders acquire improve their familial and social in­teractions as well.
"They are struggling with and overcoming is­sues like being able to stand upright, keep their balance and communi­cate their feelings," Sachs said. "[Those are] abilities that we often take for granted."
Sachs worked with one rider, Leah Battalora, for a year from 2012 to 2013. Battalora, 18, is autistic.
Battalora's mother, Carol Battalora, believes working with Sachs was a "positive and fun experience" for her daughter. "It was awesome for [Leah] to work with a peer who was patient and calm," Carol Battalora said. "[Sachs] allowed [Leah] to care for and handle her horse, and [she] listened to Leah's many stories about Katy Perry and current events in her life."
Sachs no longer works with Battalora; however, Sachs still sees her at Equest on a regular basis.
Sachs describes the staff members as patient and kind with both the riders and the volunteers. "The staff and in­structors are amazing," Sachs said. "They have an incred­ibly hard job, but they do it really well."
Equest Director of Vol­unteer and Intern Services Ellie Grant believes that the volunteers like Sachs get as much or more out of Equest than they put in.
"There's something so special about being a part of that team," Grant said. "As a volunteer, you are able to work with both the horse and the rider and to bring changes into the rider's life. Knowing that you made a difference in a life, there's nothing more rewarding."
Sachs and Battalora are examples of the relation­ships that the riders and the volunteers develop at Equest.
"Being a part of that struggle and watching the riders rise above all of the challenges life has thrown at them is a really incred­ible experience that I am so grateful for," Sachs said.
Equest caters to riders with over 24 disabilities and learning differences, like ADD/ADHD, Autism Spec­trum and Cerebral Palsy.
Founded in 1981, the 48—acre Equest campus in Wylie, Texas, provides indoor and outdoor riding arenas, horse stalls, housing and special­ized treatment facilities. Its staff of certified instructors, physical therapists and occu­pational therapists provide services to more than 150 in­dividuals in over 447 sessions annually.
Equest's mission is to "empower, enrich and edu­cate through horses."
"[Equest] is such a differ­ent environment from every­thing else in my life," Sachs said. "I'm really lucky I get to be exposed to it."
– Faith Isbell