Mariel Gets Into Character
Upper School Spanish teacher Mariana Mariel does live performances with her own Spanish theater group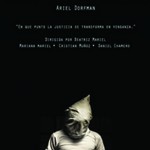 In 2001, Mariana Mariel, an Upper School Spanish teacher, played the youngest daughter in her mother's re­enactment of the play "Cuidado con Las Bonitas," by Alejandro Berruti. It was a small role, but it nevertheless had a big impact on Mariel's life.
After studying theater in college, Mariel decided to form her own Spanish theater group.
In 2008, Mariel, along with the help of her mother, Beatriz Mariel, who has been acting for 35 years, and three friends, did just that.
Named "Cambalache Teatro en Español," Mariel and her group put on major performances once or twice a year at the Bath House Cultural Center, located on the east shore of White Rock Lake in Dallas, as well as small one-act plays a few times a year in people's homes and at the One-Act Latino Theatre Festival at the Latino Cultural Center in Dallas. All of their performances, directed by her mother, are reenactments of famous Spanish classics.
Because Mariel's theater group members have an Argentinean or Chilean heritage, there is a South American influence.
"We want to broaden the scope of our Hispanic culture by representing its great writers and maintain the richness of the Spanish language through art," Beatriz Mariel said.
They have performed five plays based off of classics. While previous plays have been classified as comedies, this year's play "is very dramatic," Mariel said. "It deals more with some of the social injustices in Chile." Regardless of the genre, all of the group's plays resemble real-life situations that the audience can identify with.
Upper School Spanish teacher Luis Gallegos has seen several of her plays.
"They are definitely the kind of plays that make you think," Gallegos said. "There is definitely some kind of social message…you kind of have to think about what the outcome is, and what's the message of the playwright."
Before Mariel's theatrical epiphany, she wasn't always a stage star.
"When I was little, I wanted to be a performer, but I was extremely shy," Mariel said. "[Theater] has impacted my life tremendously because I never thought as a teenager that I would be standing in front of an audience and portraying a character…I love it."
Although Mariel devotes an extensive amount of time and energy rehearsing and preparing for performances, the hard work pays off.
"It's her passion," World Languages Department Chair Lisa Camp said. "Even though it's something that is very exhausting, it's something that illuminates her at the same time because she enjoys doing it so much."
Performing live has also improved Mariel's skills as a teacher.
"It has impacted me because I stand in front of an audience every day," Mariel said. "It's easier for me to get up on stage, even to give a speech… even though I still get nervous, it's gotten better."
"The ability to assume certain characters and personalities serve[s] her well in the classroom, because then she is able to use those skills to present new perspectives to her students," Gallegos said.
Although Mariel portrays a variety of personalities, her personality is very different from the ones she plays onstage.
"She's very laid-back," Gallegos said. "It's interesting to see her play certain characters that are actually quite distinct from who she is as a person."
Because of theater, Mariel has been able to conquer her fear of stage fright and pursue her dream of acting. "It's something that I always wanted to do and wished I could do," Mariel said. "I wanted to stop wishing I could do it, and start doing it."
Mariel's next performance, "La Muerte y La Doncella," will be shown at the Bath House Cultural Arts Center on Nov. 8, 9, 15 and 16 at 8 p.m.
– Erin Thomas