No End in Sight
Ender's Game
Gavin Hood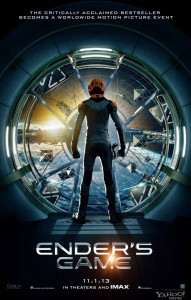 I love movies. I can't think of many things that would be better than sitting with a large water and a pack of M&Ms, be­ing entertained by the dramat­ic scenes of award-winning ac­tors and actresses, not thinking about school work.
But I am fed up with the world ending or aliens attack­ing. Based on the 1985 science fiction novel "Ender's Game" by Orson Scott Card, the mov­ie adaptation portrays future earth led by a militaristic gov­ernment preparing children to fight aliens. Come up with something new, people!
Asa Butterfield portrays 12-year-old Andrew "Ender" Wiggin, whose voice cracks ev­ery couple of sentences.
I can't handle it. Might I add that this stick-sized boy killed three characters with his bare hands? Very realistic, director Gavin Hood.
I admit the movie was very action-packed. There were mini battles between different chil­dren-led armies and plenty of freeze guns. At one point, Ender is standing above all of the oth­er children, waving his arms around, directing each one how to fight off the horse-sized ants. Got to say, I felt stressed out for him.
If you have read the book and its sequels, then go enjoy it brought to life. If you haven't and you are like me, tired of the alien invasion movies, then I highly suggest not paying $10 to take a two-hour nap. That's what my mom did, anyway.
– Gretchen O'Brien