Photo Slideshow: Parent Pop-In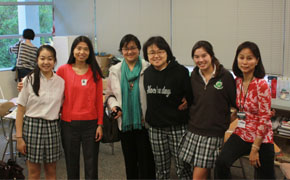 [nggallery id=71]
On Wednesday, Nov. 20, Hockaday parents dropped in on their kids' classes to catch a glimpse of the Hockadaisy life. Judging by the jampacked hallways and extended lunch period, this year's parent pop-in day was a success.
Upper School Math Teacher Jessica Chu took pleasure in watching her students' parents in class as they reviewed for a Precalculus test over rational functions the following day.
"It's interesting to see parents review their mathematical skills," Chu said.
On the other hand, Sophomore Cameron Todd was humored by the mass crowd of parents in the hallways. With 40 minute classes and over twice the amount of people, moving through the school was a slow process.
"It's funny to see all the parents walking behind their kids not knowing where to go," Todd said.
Sharon Charlton, mother of senior Kaylee Charlton and sophomore Allie Charlton, was one of those parents who attended Parent Pop In Day. Having attended every year since 2008, Charlton has developed a method of switching between her daughters' classes when she gets bored.
"I loved sitting next to my daughters and watching them learn," Charlton said. "I'm grateful for the education that my daughters are receiving at Hockaday."
Head of Upper School John Ashton spent the majority of the day greeting and waving to parents as they passed through the hallways.
"We strengthen our community when parents, teachers and students interact together," Ashton said.
Check out the photo slideshow above to see the parents, teachers and students in action during Parent Pop-In Day.
– Erin Thomas