Curb Appeal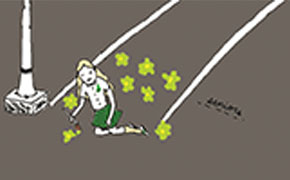 Seniors begin a new tradition by painting their parking spots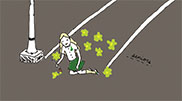 Giving a new meaning to curb appeal, the senior parking spots, for the first time in 100 years, will sport a new fresh coat of paint selected by each senior.
With the ongoing construction on the science building, there have numerous changes to the parking lot: new faculty parking spaces, new senior parking spaces and new overflow parking. These changes have caused confusion among both students and faculty about whose parking spots are whose.
In order to quell this problem, Rebekah Calhoun, Form IV Dean and Director of Health Curriculum, and Brandi Finazzo, Form III Dean and Upper School science teacher, devised a plan.
"With both faculty and students confused about parking we wanted to come up with a way to redistribute parking in a way in which everyone would be happy," Calhoun said. Under the new plan, every senior will have the chance to decorate her own personal parking spot.
After seeing other high school seniors paint their spots in Coppell, Calhoun wanted to try a new way of delineating the parking areas to eliminate any confusion caused by the invalid, old painted marking. "It is a fun, creative way to start a new tradition," she said.
Senior Regina Pimentel is also excited by the new parking set up. "I have Instagramed and Pinned multiple ideas for my spaces," she said.
But senior Mariah Camper does foresee some potential drawbacks, one being the raffle for the painted parking spots. "I get here early, and the whole lottery eliminates one of the benefits of arriving so early. I can no longer park wherever I want and might have to park further away even if there are empty spaces closer."
Each spot is numbered and seniors entered their names in a raffle on Wednesday for the row along Forest Lane or in the center of the Forest Lane lot. Names were placed into a raffle for each section and chosen randomly. Girls will have the opportunity to paint their assigned spot after holiday break.
Fifty-seven girls were entered in the raffle for spots in the center of the Forest Lane parking lot, and 27 girls were entered into the raffle for the spots along the Forest Lane fence. Two girls will have spots in the residence lot and seven girls do not need a parking spot at all.
Pimentel also worries because she has trouble parking. "I can really only pull through. Backing out may be bad for the car behind me," she said.
Pimentel hopes that painting the spots as a class will become a tradition that creates unity among the seniors. "I want our senior class to get really into it," she said. "It is a really cool tradition that we could start."
The painting is scheduled to occur after Holiday Break, giving the parking lot a new, more colorful look.
– Alaina Rodriguez