Math Teacher Adds Swimming to the Equation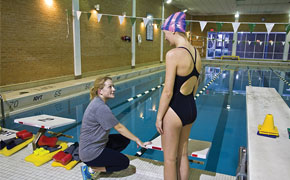 Upper School math teacher Rachel Grabow takes on the role of assistant Varsity Swim coach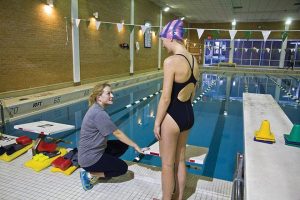 Upper School math teacher Rachel Grabow decided to join the swim team during her freshman year at Midway high school in Waco, Texas. But after enduring the long hours at practice, the stress and the infamous but­terfly stroke, she chose to quit after just one year.
"I completely hated it," Grabow said. "I was really slow, it was hard and I just didn't like it."
Little did she know that fifteen years later, she would become a high school swim­ming coach at Hockaday.
During the school day, Grabow teaches Calculus and Analytical Geometry, AP Cal­culus BC and AP Computer Science at Hockaday. But this winter, she also attends morn­ing and afternoon swimming practices to fulfill her duties in her new position as assistant swimming coach.
"It definitely takes up more of my time," she said. "It's not too bad, though, since practice is right after school or right before school in the mornings."
Grabow, an avid runner, got a stress fracture a year and a half ago. In order to recover from her injury, she joined the Dallas Aquatic Masters Club.
"I wasn't able to do any­thing else besides swimming, so I was sort of forced back into it," she said.
Within less than five weeks, Grabow began to en­joy the sport she once hated. Working with Bobby Patten, a coach at the Dallas Aquatic Masters Club, Grabow was able to ease back into training for her marathons.
Patten, who is also Hocka­day's head swimming coach, appreciates Grabow's back­ground in teaching.
"It's great to have some­one with teaching experience. There are people who are very knowledgable about swim­ming, but if they can't convey that to the athletes, it doesn't mean much," he said.
Coaching and teaching go hand in hand, and Grabow believes they are similar to one another.
"In both situations, I'd work with students one-on-one and that may be outside of class. Certain students need different things or need things to be explained in different ways," she said. "Different ath­letes will respond differently to instruction."
Senior Elizabeth Krenek, who has Grabow as a teacher for AP Computer Science, ap­preciates having her coach on campus.
"It's really cool because she definitely understands the struggle, especially with morn­ing practice because she has to be there too," Krenek said. "It's nice to get to ask some­one questions at school, and if you can't come to practice, you can just go talk to Ms. Grabow about it."
Although Grabow has only been swimming for a year and a half, she is not new to the coaching experience. Before coming to Hockaday, she taught at Holy Innocents' Episcopal School in Atlanta, GA from 2007 to 2011. While she was teaching there, Grabow was asked to be an assistant swimming coach.
"I was the only coach that was full-time affiliated with the school which is the same way it is here," Grabow said. "It was nice to be the person on campus if someone had an issue–just a familiar face compared to the other coaches."
Although the season has just begun, Grabow hopes to get more involved with the students, especially at swim meets and at the Southwest Preparatory Conference meet in February.
"I think I will be a lot more involved in meets because ev­eryone is getting on the block and cheering eachother on," Grabow said. "My main goal is to make sure the girls feel like they had a good season and improved over the course of our season."
Before Patten asked her to coach at Hockaday, Grabow was the student in the water learn­ing how to position her body and perfect her technique.
"For the past year and a half, I've been the one in the water and someone else has been telling me what to do. This experience helps me see things from another perspec­tive," she said.
This winter, it's the other way around.
– Inaara Padani