Seniors Sideline Recruitment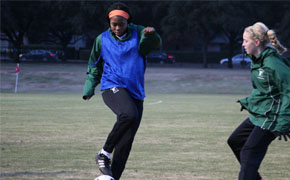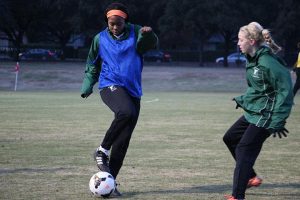 Finding the perfect combination of campus, loca­tion, academic programs and extracurricular ac­tivities can be the hardest task Hockaday seniors face, but a student athlete must factor in one more aspect: her new family of teammates and coaches.
Hockaday's athletic teams are highly ranked; they win local and state championships and conferenc­es. However, this year, according to the College Counseling Department, no student from the class of 2014 is being recruited for athletics. This is compared to the three seniors from Ursuline Academy who have already signed to schools and four others who are in the process.
According to Head of the Ath­letic Director Tina Slinker, an aver­age of four girls are recruited from each Hockaday graduating class, ap­proximately three percent. At Ursu­line, according to Athletic Director Mike Jensen, the average is 13 girls, or approximately five percent of each class.
Senior Evie Peña, Athletic Board Chair, credits this not to girls' lack of skills, but rather their preference for academic rigor.
"I think the difference is that at Hockaday people don't have that am­bition to be recruited," Peña said. "I think it comes down to that we want to get into schools for academics."
Senior Meredith Mihalopoulos is currently in the college application process. A four-year varsity athlete, she considered recruitment for field hockey or lacrosse her junior year before deciding against it.
"It's really hard to find a school that's both exactly your level both academically and athletically and you often have to pick one over the other," Mihalopoulos said. "Most girls pick academically."
Jackie Choucair '13 was recruit­ed to Stanford University for track and field. While absolutely satis­fied with her decision to be recruit­ed, Choucair remarked that its not for everyone.
"My whole life is the team… it's really defined my entire college ex­perience, and not a lot of people want that," she said.
Associate Director of College Counseling Courtney Skerritt said that though Hockaday doesn't have a high recruiting average, many girls still play sports in college, whether by walking on to teams or playing club sports.
"At Hockaday, I think [we have] many varied interests and are very diverse. We have outstanding ath­letes, and I think many more of our girls go on to play athletics [than get recruited]," Skerritt said.
Junior Mimi Asom is currently in the process of being recruited for soccer. She describes the process as extensive and more intimate than regular applications. Since freshman year, she has been emailing coaches, sending them videos of her play­
ing and inviting them to watch her play at upcoming tournaments. The process also has spanned her entire high school life rather than just se­nior year
Varsity Volleyball Coach Adaku Achilefu, who herself was recruited by Texas A&M University for volley­ball in 1998, has helped many of her athletes in the process.
"The girl's coach can write recom­mendations, make phone calls, but the majority of the work is still the athlete's," Achilefu said. "They really have to take the initiative early and build a relationship with the schools, and no one else can do that for them."
Mimi Asom's brother, Yima Asom, a senior at St. Mark's, com­mitted to Dartmouth College for soc­cer. He has known since a young age that he was going to use soccer to get either a scholarship or into the col­leges he wanted to attend.
"College was always the goal… at the end of the day I knew what I wanted and that made the process pretty simple," he said. "Watching my friends write essays and play the waiting game, I am so glad I went the way I did."
Through whichever process, Mimi Asom said that every girl should use whatever advantage they have to get into the best school possible.
"If you want to go somewhere, you are going to do everything you can to get in, and if your athletics are going to help you, why wouldn't you use them?" she said.
– Avita Anand