Friday Night Lights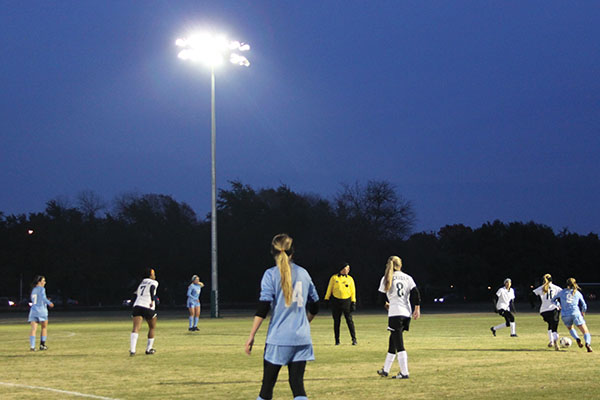 Athletic teams enjoy practicing and playing under newly-installed field lights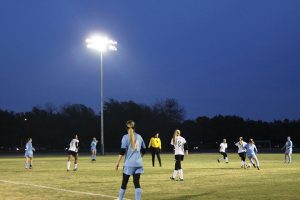 On a cold winter night, freshly hung Christ­mas lights illuminate numerous houses on Forest Lane. Meanwhile, just across the street, Hockaday also displays its new lights: the new stadium field lights which were installed at the be­ginning of the summer.
Tina Slinker, Director of Athletics, explained that the addition of lights was advo­cated for by the entire Athlet­ics Department.
Hockaday submitted the idea of new field lights with the plan for Planned Develop­ment zoning changes, which outlines any renovations to the campus.
Hockaday Chief Financial Officer JT Coats was instru­mental in bringing stadium lights to Hockaday.
"As this was a huge issue for Ursuline Academy in the past, we wanted to make sure we were very proactive and ad­dressed the neighbors' concerns about lighting," Coats said.
A photometric study took place to analyze the effect of the lights on neighbors near the Forest Lane side of campus. This study allowed Hockaday to calculate the intensity of the lights at different distances from fields.
The Hockaday field lights display around 0.1 lumens af­ter reaching Forest Lane. This is significantly less light pro­jected onto Forest Lane than a lit parking area or office build­ing. A specific light fixture with a "cut off" shield design focuses the intensity of the light onto the field and away from the street.
Junior Varsity Field Hock­ey was the first team to play under the new field lights in their match against Trinity Valley on Oct. 9. Junior Niha Choudhury, a member of the team, likes the lights, believing they enhance the game experi­ence. "You can see a lot further down the field," she said.
Varsity Soccer Head Coach Rodney Skaife views the lights as a positive change and said that the field lights have im­proved the quality of games.
"It changes the atmo­sphere, it takes away all of the surrounds, and it makes it very focused because it is the only area lit," Skaife said.
Since it gets dark much earlier during winter, the lights also allow for later games. "We used to have to rush out of class, rush to get here, rush to finish," Skaife said. "Now we can do a proper warm up and we are not wor­ried about running it out into the dark."
Sophomore Frances Bur­ton, a returning member of the varsity soccer team, has experienced playing under field lights during numer­ous away games. "I like play­ing under the lights because it is more like a classic high school under the lights game," Burton said.
With the arrival of lights Hockaday is one step closer to a Friday night lights scenario.
– Austria Arnold