Culinary Media Inspires Hockaday Community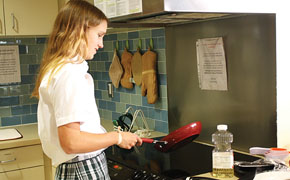 Pot Noodle Generation: the name DailyMail UK recently gave to adults between the ages of 20 and 30 after a study revealed that, on average, young professionals cook their own meals only once per week, unlike the current generation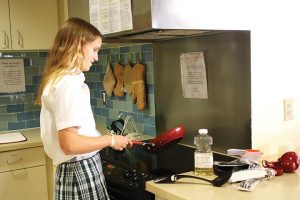 Current generations are grow­ing up with an influence that the "Pot Noodle Generation" would not have had: heightened culinary media such as The Food Network and culinary magazines such as "Bon Appetit."
On Nov. 8 13-year-old Alexander Weiss from New York took home the first title of "Master Chef: Junior." Weiss appeared in the finale of the FOX show, which ran its first season this fall. Contestants from ages eight to 13 competed in challenge-based episodes in order to showcase their extraordinary culinary talents.
Sophomore Caroline Greenblatt, who is inspired by the show, enters the State Fair of Texas baking com­petition every year. She won Best in Show in the junior division this year with her Old Fashioned Spice Cake with Cream Cheese frosting.
Media outlets like Pinterest give her the best inspiration. "Since I do a lot of Pinterest, I find a lot of cool rec­ipes on there…I think it is really just the image of food that inspires me, because when you look at food the first thing you think is 'Does it look appetizing?''' Greenblatt said, "when you see a TV show and you can see kids making something so beautiful, you are like 'Why can't I do that?' and then you can."
But Caroline is not the only Greenblatt who enters and wins food contests. Her mother, Grace-Anne Greenblatt, was a contestant on Food Network's "Bobby's Dinner Battle." She and her partner, Su­san Graas won after three days of filming for the Dallas episode.
Although Grace-Anne Green­blatt took part in one of the shows, she does not feel that they are the most influential to amateur cooks. "I think your parents can influence you more than Food Network or even some of the media, but I think show­ing a 13-year-old on TV cooking up a storm can generate interest and show people what is possible," she said.
Grace-Anne Greenblatt believes that it is important to teach kids cook­ing skills. "Teaching children even as young as five, six, seven how to cook is a life skill that they will carry with them forever, and I always tell my girls that if you can cook, you will always have friends because a good cook never lacks [them]," she said.
Some kids enroll in culinary classes to learn from experienced chefs. Junior Elizabeth Michel's mother inspired her to pursue her culinary talents. A few years ago, she attended a summer camp at the Kid's Culinary Camp of Vermont and learned techniques for basic cooking, as well as more advanced skills such as cake decorating.
Although Michel looks to her mother as an example, she also finds culinary inspiration in the Food Net­work programs and cookbooks from the Barefoot Contessa and Giada. "[Media] has made it more exciting for younger people. When they see people on TV that are good cooks, it is not just like their mom is a good cook," she said.
Media can also inspire those who have a profession in the cu­linary world. Vincentia Civello, sophomore Nina La Barba's mother, and her brother own a small fac­tory called Civello's Raviolismo in East Dallas where they hand-make stuffed pastas for retail.
"I love Food and Wine Magazine, and I get inspiration from all places. People come into the shop and tell me interesting things they have eaten on a trip, and it inspires me to some­thing similar, perhaps. I get inspira­tion from everywhere," Civello said.
And when it comes to inspiration, the Hockaday kitchen is no different. The kitchen staff looks at magazines and websites to find recipes to serve in the lunchline.
"We usually look at the recipes and tweak them, but it is a starting point for us," Director of Food Servic­es Tori Reynolds said.
Reynolds agreed it is important for kids to start experimenting with cooking early on.
"I think a lot of the enjoyment and art of cooking have kind of got­ten lost, and now it has become a kind of fad, and these chefs are rock­stars," Reynolds said. "But, it is really about the enjoyment…and it is just an incredible skill to have no matter what you do in life."
Through influence from parents and media, perhaps our generation will discard the term "Pot Noodle Generation" and instead begin a new trend with interest in cooking.
– Megan Philips