Dancer Breaks the Ice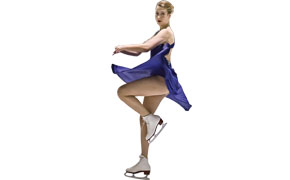 Sophomore Alexandra Randolph switched from figure skating to ice dancing and now participates in national ice dancing competitions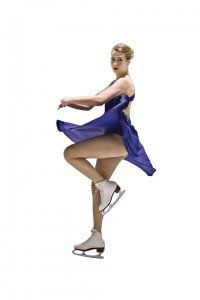 Lift. Turn. Twizzle. If you thought you knew a lot about figure skating, try ice dancing.
When Sophomore Alex­andra Randolph was 8-years-old, she tried off-ice dancing to help with her performance as a figure skater. She didn't like dancing at first, but soon fell into the motions.
"It didn't do anything for me," Randolph said. "But then I real­ized what dance actually was."
At the age of 13, Randolph decided to use her polished dance skills to try ice dancing.
Now, almost three years later, she competes nationally at the highest level.
Ice dancing consists of skating to the beat of music and does not involve overhead lifts, in which the male partner holds the female partner above his head, or jumps.
"Ice dancing is more lyrical, more music-based. [Movements are] more complex; they use more rotation and harder posi­tions," Randolph said.
Training
Randolph practices 15 to 20 hours a week, both before and after school on some days, and does off-ice conditioning.
"It's kind of an endurance sport," Randolph said. "One four-minute free dance is the equivalent of running a mile."
Randolph trains at three different locations: the Dr. Pep­per Star Centers in Plano, McK­inney and Farmers Branch.
Brent Holdburg is one of Randolph's two coaches and is also the 2005 U.S. National Ju­nior Silver Medalist, an inter­national medalist and former member of Team USA. He has been coaching Randolph for two and a half years.
"She's very motivated and hungry to learn," Holdburg said. "It's impossible to predict the future, but with [her], the sky is the limit."
Competitions
Ice dancing is judged based on a 6.0 grading system; the dancers receives points based on their performance.
Ice dancing is competitive. But unlike most, how well the dancer does is determined by a judge.
"A lot of politics go into [it]," Randolph said "The judg­ing is very abstract."
Currently, Randolph com­petes in the National Solo Dance Series, which hosts four to five competitions each year.
Compulsory dance test ses­sions take place every month and determine succession to the next level. The levels are preliminary, pre-bronze, bronze, pre-silver, silver, pre-gold and gold. Randolph is cur­rently in the pre-gold level.
Formerly an off-ice dancer, Randolph switched because "it really plays on all of my strengths. I've always been a very powerful skater," she said.
On the Ice
A typical morning prac­tice with Randolph brings to light a different perspective on ice dancing.
Randolph opts for protein, preferably scrambled eggs and Luna Bars, when she eats break­fast before or after practice.
Randolph warms up off the ice by jogging and stretching. She uses a routine before each practice and competition.
After she is geared up, Ran­dolph starts skating. Holdburg trails close behind. Any mis­takes that she makes are barely noticeable and easily fixed.
And she knows how to spice up her uniform; Randolph painted daisies and an Eiffel Tower on the bottom of her ice skates. During practice, Ran­dolph wears yoga leggings with a tank top and a fitted jacket.
In a typical practice, Randolph will warm up with some basic moves before transitioning into partner dances with Holdburg.
Despite sharp twists and high speeds, Randolph man­ages to skate with poise and confidence, making ice danc­ing look easy.
Inspirations
Randolph has two role models who have continued to inspire her: the American team of Meryl Davis and Char­lie White, both two-time world champions in ice dancing.
"It goes deeper than [ice dancing]," Randolph said. "They always had this perfect balance of skating and education in their lives and are really great advocates. I think their off-ice values are mainly why I love them so much."
Just like Davis and White, Randolph works hard to find a balance between school and ice dancing. "School will always come first," she said. "But ice dancing is a close second."
Randolph receives inspira­tion from on-ice role models as well as off. Her parents Laura and Ken Randolph dedicate their time to their daughter's sport. Volunteering at Alexan­dra's ice dancing competitions as announcers and by working at the check-in counter "gives us the opportunity to participate in what she loves," Laura Ran­dolph said.
"If I ever get off track, they put me right back on," Alexan­dra Randolph said. 'They're a great support structure."
Sophomore Madison Smith, one of Randolph's close friends, has seen her perform.
"I love watching her be­cause I know how hard she works, and it's so awesome to see the end result," Smith said. "She loves what she does, and that's why she's amazing at it."
Randolph teaches dance classes twice a week at the Dr. Pepper StarCenter in McKinney to beginner ice dancers, rang­ing from 3 year-olds to adults. "I love seeing little girls that have this raw love for skating," Randolph said. "That's what in­spired me when I was little."
Looking Forward
As for her aspirations, Ran­dolph hopes to make it onto Team USA and get an interna­tional assignment. "It would be really cool to go to an inter­national competition and rep­resent the United States; that would be an amazing experi­ence," she said.
Randolph has had her ups, but also downs; one of them being the silver level dance ses­sion. After failing it once in July of 2012, Randolph failed again in August of the same year by a mere one-tenth of a point.
"I had been working very hard," Randolph commented. "It made me so sad, and so frustrated. I got back on the ice Monday morning and said 'Well, let's do this.'"
Since then, Randolph has met all of her test sessions with equal determination.
Although ice dancing has proved difficult for Ran­dolph more often than not, she has learned to "never give up," she said. "No matter what anybody tells you. Sometimes you'll lose your motiva­tion, but you have to just keep pushing through."
Aside from the competition, Randolph remains tied to ice danc­ing through dedication. "I'm here because I love this sport," Randolph said. "At the end of the day, it may be hard, but I can't imagine my life without ice dancing."
– Erin Thomas