It's the Bomb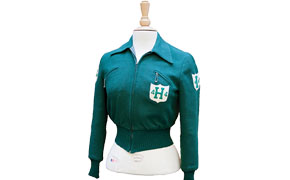 Hockaday may not offer the bomber jacket anymore, but based on the popular demand, that could change in the near future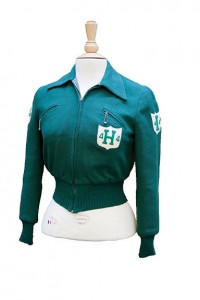 Centennial year may be a special time to cele­brate the history of our school, but one thing Hockaday students have al­ways commemorated are old fashion trends.
Junior Staci Shelby struts the halls in her custom, forest-green, white-sleeved, vintage-style bomber jacket. Shelby ordered the jacket on­line through Ricky Carter, who works for "The Neff Company." The company creates and sells jackets with personalized patches on them based on the customer's athletic achievements.
The jacket Shelby bought is decorated with patches including a Hock­aday "H" and Southwest Prepa­ratory Conference patches that are in the shape of a basketball and a winged foot from Shelby's seasons as a basketball player and track runner.
"[The letterman jackets] are an essential part of sports in high school, and so I decided I wanted one," Shelby, an avid athlete, said.
In the pursuit to bring back the jacket, Shelby and her mother met with Director of Athletics Tina Slinker.
This request was much like what a small group of girls did at Hocka­day less than 100 years ago.
According to Archives Manager Emily Embry, the let­terman jackets were extremely popular during the 1930s. Wanting to bring the new fashion trend to Hockaday, a few girls approached Miss Ela Hockaday in the late '30s and asked her to create a Hockaday bomber jacket. Our founder agreed and the wool bomber jackets, green with shoulder pads and embellished with Hockaday athletic patches, quickly became popular. Although these jackets were popular during World War II, during the early 1950s they started to go out of fashion and people lost interest in them.
During the late 1950s and 1960s, upperclassmen decided to replace the bomber jackets with white cardigans in or­der to stand out from the un­derclassmen. However, when these cardigans were not well received by the majority of Hockaday students, they were transformed into the white blazers that seniors wear to this day.
Now that old fashion trends are coming back, there is a good chance that Hockaday will begin to sell these jackets again. Embry said the final de­cision, however, belongs to the students. "It would just depend on whether or not the girls re­ally want it," she said.
Dean of Student Life Meshea Matthews said, "We have offered students assis­tance in ordering varsity jack­ets like Shelby's in past years, and some have ordered jack­ets." Dara Williams, Bookstore Manager, added that the book­store would not have a problem with sell­ing the jackets as long as enough girls are willing to buy them. It's only a matter of time be­fore Hockaday girls will be seen sporting the jackets yet again.
Contact Dara Williams at [email protected] if you would be interested in bringing back the bomber jacket.
– Manisha Ratakonda