Marvel Introduces New Female Muslim Superhero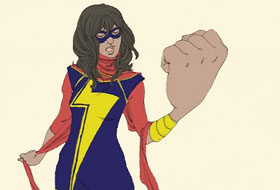 Implications of Marvel's brand new teenage Muslim superhero, Kamala Khan, affect Hockaday students and parents in different ways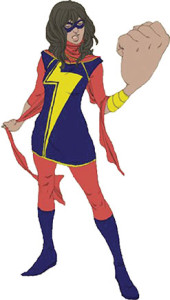 When most superhe­roes take off their masks, a white male is revealed. But in Marvel's new comic, Ms. Marvel, an unexpected new superhero is being revealed: a Muslim girl.
In January 2014, Marvel will introduce Kamala Khan, a teenage Muslim girl living in Jersey City, N.J. Kamala is one of three Muslims rep­resented in Marvel com­ics, but she is the first female Muslim to head­line her own comic.
The idea for a Mus­lim female superhero was conceived from a conversation between Sana Amanat and Steve Wacker, two ed­itors at Marvel. They decided to make the comic after Am­anat shared her experiences as a Muslim girl grow­ing up in America.
While grow­ing up as a first generation American, Kamala closely fol­lowed the career of fictional comic hero Carol Danvers, the original "Ms. Marvel." Danvers is Kamala's own idol—Dan­vers represents the "blond haired, blue eyed" ideal that Kamala tries to emulate, and after she discovers her pow­ers, Kamala assumes the name "Ms. Marvel," following in the footsteps of her predecessor.
As a Muslim growing up in America, Kama­la will experi­ence unique obstacles due to her faith and culture. "Her brother is extremely conser­vative… her mom is paranoid that she's going to touch a boy and get pregnant. Her father wants her to concentrate on her studies and become a doc­tor," Amanat said in a New York Times article.
Throughout the comic, Kamala struggles with being a Muslim in America, resolv­ing her cultural and religious differences, all while fighting villains and attending school.
Although Ka­mala was based off Amanat's own life ex­periences, sophomore Aleena Tariq, who is a practicing Muslim, iden­tified with her social issues.
"Her parents want her to be a doctor. I think that's relatable to a lot of girls at Hockaday. So [the character] is good if you're struggling with some aspects [of life]," Tariq said.
Not only is the comic relat­able to many Hockaday girls, but senior Raheela Ahsan sees the diversity as a reflection of the Hockaday community. "I think it advances the reputa­tion of independent women, especially in a comic culture… It also embraces the diversity ap­preciation Hockaday has devel­oped over the past few decades."
However, the creators are already aware that Kamala's cultural issues will most likely draw backlash, not only from those who are "anti-Muslim" but from "people who are Mus­lim and might want the char­acter portrayed in a particular light," Amanat said.
Even though the ultra-conservative, "doctor-minded" family is a common stereotype normally attributed to South East Asians, Tariq does not think these issues apply in the United States.
"Her mom's view of preg­nancy is too extreme… [My par­ents] have never said that, and I don't think that's too com­mon for Muslims in the Unit­ed States to hold those [kinds] of views," Tariq said.
However, Tariq's mom, Ai­sha Tariq, interprets her social issues in a different way. Even though she recognizes that many South Asian households uphold the "doctor" stereotype, she thinks that the doctor is­sue shows how "committed her parents are to their daugh­ter's education."
While Marvel hopes to pro­mote the equality of cultural minorities, some hold reserva­tions about the comic's launch.
"It's refreshing to see a new Muslim character, because it's a relevant religion, but I think some people will see her op­pression [by her family] as too stringent and apply that to the whole religion," Tariq said.
In contrast, others hope that the comic will display the progressiveness of minorities. "I see it portraying Kamala's family as the stereotypical Muslim family: restrictive and confining of their daughter. However, I feel that it breaks stereotypes rather than en­forcing them," Ms. Tariq said.
Additionally, Ahsan be­lieves that Kamala's stereo­types "apply to nearly every person who struggles with blending into the Ameri­can way of life" and are what "make her more relatable."
Marvel's twist on the typical American teenager is what makes her more ap­proachable, according to Ah­san. Even though Kamala is a teenager who lives following the traditions of her faith and has a stereotypical Mus­lim upbringing, "[she] is liv­ing a completely average and normal life [by] facing the struggle that thousands of teens just like her are across the US."
For now, no one knows how successful the new Ms. Marvel series will be. The comic's total sales, once re­leased, may become the mea­sure of the series accomplish­ment in the future.
But for Tariq, the story is already an achievement. "It re­ally shows that [Islam] is prev­alent enough to be featured in a well-known comic, and that we can change people's per­spectives of [Islam]."
– Sunila Steephen