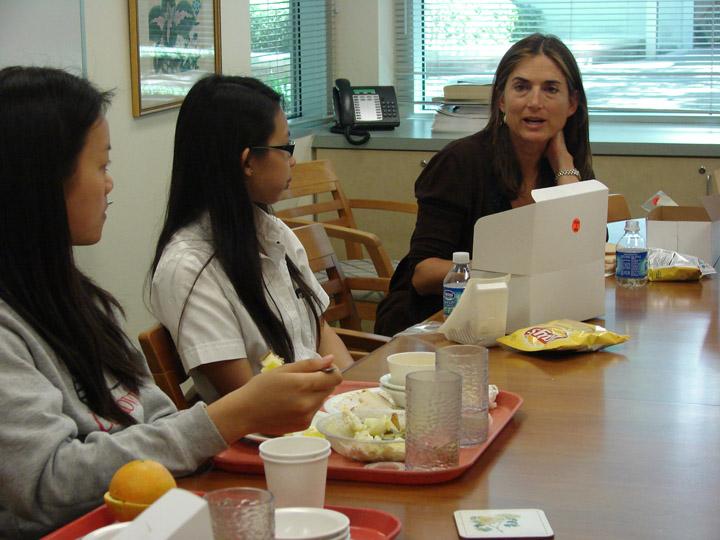 Authors Dominic Smith, Kathleen Kent and Julie Hersh visited Hockaday classrooms on March 28, 29 and April 5, respectively due to the collaborative efforts of junior English teachers, Upper School Head John Ashton and junior Kay.
Though writers have come to the school before, these local, published authors were invited specifically to assist juniors with their college application essays.
Kay initiated the search for the authors. Inspired by the St. Mark's literary festival, she hoped to also bring literary arts to the Hockaday community.
Committed to the Author's Series idea since last year, Kay looked for local authors, some of whom are professors at Southern Methodist University.
After deciding which authors would be best to teach Hockaday juniors, she contacted them to organize the visits. After continuous planning between Kay, Ashton and the English teachers, the Author's Series shifted from idea to reality.
"This is the time when [juniors] start their college essay, a deeply personal narrative often intimidating and daunting for them to start thinking about. We had the interaction with different writers who have their own style of free-writing and initiated creative energy," says Dr. Deborah Moreland, English Department Chair.
"I'm delighted to learn that the school holds the arts in such high regard that it has its own literary event," says visiting author Smith, author of The Mercury Visions of Louis Dagguere. "That's a rare thing among secondary schools and I'm thrilled to be invited to participate."
Smith would like to "encourage all students to explore writing in all different forms—as a mode of expression and an outlet for imagination, but also as a way of learning how to respond thoughtfully to the world of art."
Upper School English teacher Janet Bilhartz reviews the takeaways from Smith's visit, "He says you have to force yourself to sit down and write. It's not like inspiration strikes— the computer strikes! And I thought that was interesting for everyone to hear— that inspiration comes through hard work."
Author Kent, who writes historical fiction novels such as The Heretic's Daughter, discussed "the development of selecting a topic through the execution of the essay that captures the unique and individual character of its author… I hope to communicate to each student the joy of self expression through the written word."
Isabella, a junior who heard Kent speak on March 28, enjoyed receiving advice from a different point of view. "I loved having professional feedback," she says. "She taught us about character development, which is important in college essays." Kent's visit influenced both Isabella's school-related and recreational writing.
A Dallas mother who struggled with depression, Hersh, author of Struck by Living, describes her goal, "My hope is if I can share my experience, I can help these young women avoid some of the pitfalls I encountered."
Kay is satisfied with the event. "I've been hearing from my classmates about their experience, and they enjoyed it, so I'm counting [the Author's Series] as a success."
The Author's Series is scheduled to continue in the future.
"We have already begun accumulating names of possible authors that we might contact for future series, hopefully next year," Moreland says. "We are very grateful for all the excitement and knowledge the authors this year gave the juniors, and we hope to continue the program in the future."
Bilhartz agrees, "It would be fun to bring them in for the freshmen, or maybe the seniors. I think there are many different ways for the writers to come in and talk to the students."
—Amy