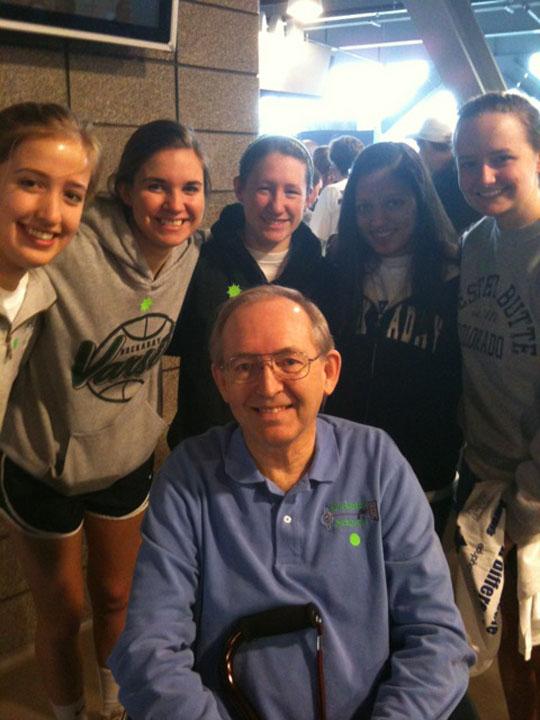 Waking up early on March 5, the Saturday morning before exams, 13 Hockaday girls drove out to Cowboys Stadium. They were participating in a Muscular Dystrophy Association walk around the staduim to raise money for ALS, also known as Lou Gehrig's disease, in support of beloved science teacher Pete Lohstreter, who was recently diagnosed with the disease.
"Just putting a smile on Mr. Loh's face made it all worthwhile," says senior Clare who enjoyed giving some of her time to help one of her favorite teachers. "It was just an incredibly worthwhile experience. He is an incredible teacher, an amazing person, and [has] inspired generations of girls from Hockaday to go into the sciences."
Senior Margaret, who was Hockaday's team captain at the walk and a previous volunteer for the MDA, says the walk was really fun and meaningful and that she looks forward to participating in another walk in the future.
"It is such a great organization to help, and there is still so much research they can do for Muscular Dystrophy and ALS," she says. "Seeing Mr. Loh and his wife and how happy they were to see us there [made it] a special experience." says Margaret, a 4 year member of Mr. Loh's advisory. "[Mr. Loh] has supported us through everything in advisory the past 4 years, so the walk was something that we were happy to do for him. We all love Mr. Loh."
Despite the early hour, walkers were geared up and excited to participate in the event. Clare noted that, "People were very friendly and everyone was excited to walk [on behalf] of their individual inspirations."
Numerous teams came decked out in shirts made to support their families and friends. Taking one lap around Cowboys Stadium to show their commitment to the cause created an environment full of walkers who were "united and wanting to help," Rote says.
Mr. Loh, who has been teaching at Hockaday for 11 years, says that his favorite part about teaching at Hockaday is the students.
"[They] are amazing," he says, and he is "honored that they took the time to come out and support the Muscular Dystrophy Association."
The support from the Hockaday community "[keeps] me going," says Mr. Loh and "gives [me] something to look forward to each day."
The Hockaday Team raised $390 for the MDA, the nation's largest voluntary health agency devoted to raising money for neuromuscular research, services and education. The walkers received a plaque for their help and participation in the walk which they signed and presented to Lohstreter.
"I thought the experience was extremely fulfilling," Clare adds. "So many people came out to support this cause, and it was just an amazing thing to watch and participate in."
—Alaina