The High Price of Higher Education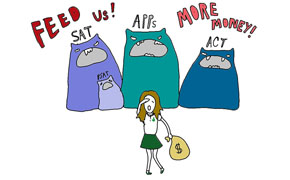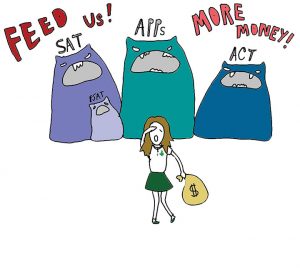 First semester for a Hockaday senior is sometimes thought of as a period of individuality, a time when she'll write college essays that reflect her personality, decide what field of study to concentrate in and select which of the thousands of universities to submit applications to.
Yet although the experience of applying to college varies from applicant to applicant, the steps within the process remain essentially the same. Everyone has to write essays, everyone has to take standardized testing and everyone has to face the costs of applying to these schools.
In January, I submitted the last of my 10 college applications, which, including the SAT and SAT Subject score reports required by each school I applied to, amounted to a grand total of $961.50. This number does not include the cost of financial aid forms, standardized testing classes, college visits and college-related books my family has had to pay for over the last few years.
Hockaday's college counselors recommend seniors apply to between seven and 10 colleges, which means that, based on the average college application fee of $38.39 as of spring last year according to U.S. News, an applicant would hypothetically spend between $269 and $384 on college applications alone. Many of the highly-ranked schools that Hockaday students often apply to charge much more than this amount; for example, Stanford charges its applicants $90. Additionally, each SAT score report costs $11.25.
Perhaps I've lived too much of a sheltered life, but the subject of how much applying to college would cost had never occurred to me when I first began submitting applications last fall. Between college visits and standardized testing classes, I always knew that the college application process could be very expensive for some students. But visiting a college campus or taking test preparation classes were, at the end of the day, optional. What most surprised me was that the steep fees included in the actual applications and test score reports were not, in fact, so optional.
Before I go any further, let me acknowledge that I understand that these fees are necessary for the maintenance of the admissions department of each university. But consider the thousands of millions of dollars of debt that the majority of college students are facing today. Can high school seniors afford to spend so much money on a college they haven't been accepted to yet
before they have even set foot on its campus?
According to a survey of the Class of 2014 conducted in January, 92 percent of seniors believe that applying to college is too expensive. Even filling out financial forms, such as the CSS/Financial Aid Profile, which requires students to pay $25 for the first school they submit the form to and $16 for each additional school, demands money. Is it just me or is it ironic that students who choose to apply for financial aid must pay money to do so?
There are fee waivers available for students from low-income families or who academically distinguish themselves from other applicants. This fall, I made the mistake of automatically deleting emails and throwing away paper mail from colleges that didn't seem like they actually pertained to me (Every upperclassman understands just how vociferous and aggressive colleges that promote themselves over emails can get). The one time I did open a letter from a college I decided to apply to, the admissions office offered me a fee waiver if I applied. At the
time, because the cost of applying to college simply wasn't on my mind, I disregarded the letter and forgot about it until about two months later, when the reality of how expensive the college application process was hit me.
The process of attempting to obtain college application fee waivers is an indefinite one.
The CollegeBoard website explains student eligibility in quite ambiguous terms: "Eligibility is determined by family income or by participation in a public assistance or other program for economically disadvantaged families. The income guidelines are based on those of the federal free and reduced-price lunch program."
Because Hockaday doesn't follow the public school lunch program, a Hockaday senior seeking financial assistance would have to fill out all of the necessary paperwork only to possibly receive fee waivers. Furthermore, each student can only receive and use up to four "Request for Waiver of College Application Fee" forms. This guideline severely limits the number of schools she can apply to.
I  only wish that in the so-called land of opportunity, applying to college was less expensive.
Considering the rising price of tuition and the millions of students who are enrolling in U.S. colleges, surely universities can afford to lower application fees.
Colleges are businesses, and there is no customer as eager as a prospective student.
– Amy Tao