Let's Remember the Forgotten Cornerstone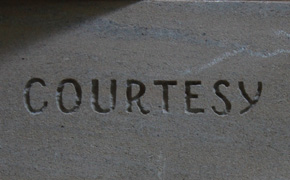 Hockaday's four cornerstones—Character, Courtesy, Scholarship and Athletics—are supposed to be the defining principles of our school. But lately, it seems that we have forgotten the meaning of Courtesy.
Take the annual senior Halloween hallway decorations. Though the seniors had spent hours planning and decorating the hallways, they received critique from underclassmen through social media, particularly Twitter. The tweets that followed not only were incredibly disrespectful to the seniors, who had sacrificed precious time the night before many early decision deadlines, but blatantly rude to the efforts of other adults, senior sponsors and parents who had volunteered.
Unfortunately, we have observed that this kind of disrespect has come up again and again this year. It seems that we forget the power our own words and actions carry and how they reflect the school's character.
The backpacks that line the hallway, the leftover Fish and Chips smashed into the carpet of the cafeteria, the food containers we forget and the chairs we leave unpushed from tables in teachers' classrooms. These are all things that, though small, undermine the Courtesy we are supposed to represent at Hockaday. It is no one else's job but our own to ensure that we stash our backpacks in our lockers, clean up after ourselves in the cafeteria and push our chairs in before leaving the classroom. To leave our school scattered with garbage at the end of the day screams that we take no responsibility, or pride, in our school and in the people who work here.
We are all incredibly fortunate to be at Hockaday. To say otherwise would not only be false but also ignorant when considering the lengths so many women, even today, go to just to receive basic education. The way we have been treating our campus does not show the gratitude that we know each student feels toward our school.
It is of the utmost importance that we all examine the behaviors people will remember us for, and how we reflect our school when we act in this careless fashion. It doesn't matter if you can calculate the most complicated calculus integral or compose an award-winning junior research paper if you do not treat courtesy with the same diligence.
Courtesy is one of the most essential lessons learned in our youth, and if we lose it before graduate, why did we bother at all?
– Molly Montgomery