Welcome to the 86th Annual Academy Awards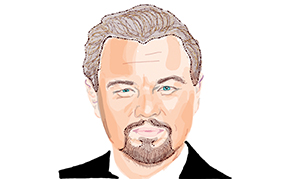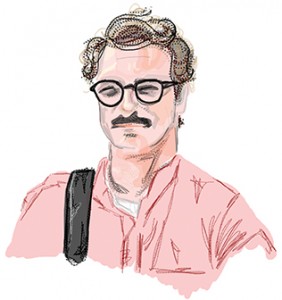 With the Oscars in less than a month (March 2), here's everything to expect on cinema's biggest night
Best Actor in a Leading Role
Predicted : Matthew McConaughey, "Dallas Buyers Club"
My Picks: Christian Bale, "American Hustle"
or Matthew McConaughey, "Dallas Buyers Club"
I'm still in the phase where I feel shocked when Christian Bale doesn't mutter in his strangely impossible-to-imitate Batman voice, and perhaps I can attribute that as the reason for why I love him in "American Hustle." Whether it's that terrible hairpiece or the additional 20 pounds added onto his midsection, he sold his character, Irving Rosenfeld, a scam artist in deep with the FBI, in a way that could prob­ably be called hustling. It's a cheap and trite type of pro­tagonist considering it's the same tough New York guy out to make it on his own and beat the system in that same tough New York guy kind of way, yet I still had so much fun watch­ing him in this film. I certainly bought it. On the other hand, I want to give Matthew McCo­naughey huge props for step­ping outside of his romantic-comedy comfort zone and into the character of Ron Woodroof, a cowboy cursed with AIDs. It's always nice to see an actor come across that one movie that will end up changing his career forever, and McCo­naughey, an actor who I once believed to have little potential for growth, has certainly found his defining moment in "Dal­las Buyers Club."
Best Actor in a Supporting Role
Predicted: Jared Leto, "Dallas Buyers Club"
My Pick: Jared Leto, "Dallas Buyers Club"
Do I even really need to say it? Jared Leto hands down. In his role of Rayon in "Dallas Buyers Club," he gave audi­ences the best performance of the year, and his method acting makes his work all the more worthy of acclaim and recognition. How many other people could have portrayed an emaciated transgender woman with such ease and believabil­ity? Before this, I knew Leto only as that punk rocker with the beautiful, slightly wavy shoulder length hair, and now I know how much acting tal­ent rests under those locks and hauntingly gray eyes just wait­ing to be tapped! I thought we lost him to the music industry a few years back (anyone re­member the band Thirty Sec­onds to Mars? Yeah, he's the lead singer). But it seems he has made quite the comeback. We should hurry and shower him with awards and nominations in case he leaves us again, and we'll be forced to see his name on the iTunes charts, rather than on a movie poster for one of the best pictures of the year.
Best Actress in a Leading Role
Predicted: Cate Blanchett, "Blue Jasmine"
My Pick: Amy Adams, "American Hustle"
First of all, Amy Adams just deserves an award simply because she looked absolutely fabulous in all of those plunging velvet and sequin jumpsuits. But her character's neurotic British and American accents, con art­ist cunning and absolute de­votion to one man also left so much to be enjoyed throughout "American Hustle." In my opin­ion, the film probably carried on for 20 minutes too long with an unoriginal, slow-paced plot­line–both reasons why I don't consider it the best picture of the year. However, I've long believed that Adams remains this generation's best actress, a Meryl Streep with red hair and fewer awards. With her performances in both "Ameri­can Hustle" and "Her" this year alone, I have no doubt we'll be seeing more of her in the future. She's had quite the track record al­ready with five Academy Award nominations, so if Adams doesn't win, I won't be too discour­aged. Like her deter­mined character Syd­ney Prosser, I know she'll end up pulling it off someday.
Now, I must ad­dress "Blue Jasmine," as Cate Blanchett seems to be a shoe-in after a SAG and Golden Globe win. Call me crazy, but "Blue Jasmine" did nothing for me, and neither did Blanchett's character. The movie, had it not been written by Woody Allen, would never have attracted such an eclec­tic star-studded cast or gained the amount of attention it so wrongly garnered this awards season. No one seemed to tru­ly fit into their roles, and it all appeared so oddly casted, with the exception of Sally Hawkins, who as Blanchett's sister, add­ed a believable bohemian feel to the character. To be com­pletely honest, the whole pill-popping New York socialite on her fall from grace became old when Lohan returned to jail for the 20th time. But do you know what I never get sick of? Hustling.
Best Actress in a Supporting Role
Predicted: Lupita Nyong'o, "12 Years a Slave"
My Pick: Jennifer Lawrence, "American Hustle"
Don't get me wrong. I do very much like Nyong'o, whose acceptance speech at the SAG awards I consider to be one of the best I've heard in years. She's beau­tiful, eloquent and powerful, but in my opinion, she had so much to work with in "12 Years a Slave," blessed with a brutal story and the most tal­ented ensemble of the year (if you disregard "Lee Daniel's the Butler"). She clearly has talent and she did very well with the part, having learned from the best at Yale Drama School. But Lawrence, on the other hand, absolutely overshadowed act­ing veterans Jeremy Renner and Bradley Cooper in "Ameri­can Hustle" and singlehanded­ly placed this dramatic film in the genre of comedy. Bestowed with an absolutely ridiculous character, J-Law executed the role with zest, jazz and hustle– all the while working a variety of groovy up-dos. I certainly consider this the first and last time desperation and whini­ness in a character doesn't an­noy me. I wanted her to be in all of the scenes, but the fact that Lawrence only had a sup­porting role made her appear­ances in the film all the more appreciated.
Best Director
Predicted: Alfonso Cuaron, "Gravity"
My Pick: Alfonso Cuaron, "Gravity"
I have nothing else to say on this prediction except that I felt ill during the entire dura­tion of "Gravity," sick enough to only eat half of my meal at Stu­dio Movie Grill. Granted, I acci­dently bought tickets to the 3D showing and did not have the proper eyewear to view the spe­cial effects, but I truly believe the jostling in my stomach di­rectly correlated with Cuaron's directorial genius in this film. Unfortunately, I will say that this probably hurt the movie in its chances for more victories. I left without any desire to see it again. While movies in the past have proved hard to watch, this one addressed questions of human existence and insig­nificance, which most of us do not want to tackle, especially in a theater where the primary objective usually surrounds es­capism and entertainment.
Best Picture
Predicted: "12 Years A Slave"
My Pick: "Her"
If you saw the trailer for "Her" and thought it sounded super strange, you're not alone. I remained skeptical until a Saturday afternoon at the Magnolia showed me what I almost missed. And before you accuse of me picking the dark horse candidate just to keep these predictions interesting, you need to know why I consider it by far the best movie of the year.
I'd like to start off with Scarlett Johansson, whose name I'm sure attracted most of the movie-goers in the first place. I initially noticed her talent in "Vicky Christina Barcelona" (another great flick about unconventional love), but her performance in this film, though you do not see her on screen once, may be her best to date. Her ability to make you feel happy, sad and irritated without one look at her face truly speaks to the inflection, personality and absolute sex appeal that make her tone of voice so delicious and so captivating. If I had the opportunity to fall in love with Scar-Jo's voice, I absolutely would.
I walked in with the fear that this movie might veer too close to the genre of science fiction, yet the film seems entirely realistic in its futurism. Shot in particular parts of Los Angeles and Shanghai, the buildings simply look contemporary.  It's easy to digest, easy to believe and easy to love. I must also say that the costume designers, which the Academy failed to recognize, predicted trends that will be popular 10 years from now. I wouldn't be surprised to see people walking down the street in the gray high-waisted wool pants that Joaquin Phoenix wears in pretty much every scene of the film–they'll be the ultimate hipster look of 2025.
Speaking of Phoenix, I would like to say that, as he has in every other movie he appears in, he simply kills it. He possesses the power to make any film seem more significant and thought-provoking just by staring off into the distance in a concentrated gaze, which coincidentally the producers chose as the poster for this movie.
While I found the film similar to crowd favorite "500 Days of Summer" in terms of its quirky quips and ridiculous amount of scenes where people bask in artsy sunlight, I'd like to stress that I have never seen a movie like this before. Through its sweet and often uncomfortably honest screenplay for which director Spike Jonze should win an Oscar, you will leave the theater no longer feeling that it's weird to fall in love with an operating system and realize that all we're really looking for in life is companionship and someone to talk to us, listen to us and understand us. And if that comfort comes in the shape of a small, white earpiece, then so be it. But for the record, I call dibs on Johansson to voice my operating system.
Despite "Her"'s absolute masterful fusion of sweet romance and dramatic depth, it remains hard to deny a historical biopic with a cast that includes no-name actors with great promise, Lupita Nyong'o being one of them, who generate so much additional buzz for the film. Everyone loves an underdog, especially actors who have never been recognized before, and the power of "12 Years a Slave"'s subject matter, and the vulnerability with which this film displays it, will probably prove to be enough to take home a win next month.
Other Awards:
Best Cinematography:
Predicted: "Gravity"
My Pick: "Gravity"
Best Costume Design:
Predicted: "American Hustle"
My Pick: "American Hustle"
Best Makeup & Hair:
Predicted: "Dallas Buyers Club"
My Pick: "Dallas Buyers Club"
Best Music-Original Score:
Predicted: "Gravity"
My Pick: "Her"
Best Production Design:
Predicted: "The Great Gatsby"
My Pick: "Her"
My Thoughts
Same old song and dance
After reading a few Oscar blogs concerning the predictable nature of the nominations, it seems to me that every year we find the same type of movies in the Best Picture category: the historical biopic ("12 Years a Slave," "Lincoln"), the visual stunner ("Gravity," "Life of Pi"), the indie dark horse ("Her," "Beasts of the Southern Wild") and the stylish ode to retro America ("American Hustle," "Argo"). They certainly follow formats that historically have worked, but in the future, the Academy should try to somehow support those who don't fit in these often banal molds.
Close, but no cigar for Leo
If Leonardo DiCaprio did not absolutely keep me marveling at the ease in which he played this role, I would have certainly walked out of the three-hour exhausting story of "The Wolf on Wall Street." Not surprisingly, Martin Scorsese seemed to have picked this story straight out of the woodwork just to finally give his old friend a chance at a much-deserved Oscar, but the role of Jordan Belfort reminded me very much of Jay Gatsby, and in that way, I don't consider it a stretch for Leo's acting abilities. It featured the same fast-talking speech about wealth, women and wayward fantasies of glory and fame, but an actor with this level of talent doesn't need a film of such high shock value to get him the attention he deserves. His time will certainly come, but I hope that "The Wolf on Wall Street"'s never does.
– Katie Payne