Alumna Stars on Popular TV Show "Teen Wolf"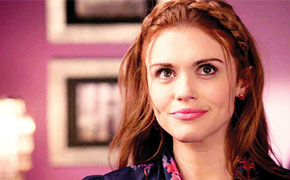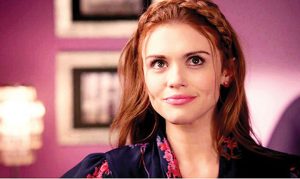 Former Hockaday student Holland Roden knew she needed to give her audition for the part of Lydia Martin in MTV's "Teen Wolf" a twist. She would be competing against a pack of models, so she practiced the catty manner­isms made famous by classic "Mean Girl" Regi­na George. Then, as any Hockadaisy would, she started thinking about the reasoning for the written shallowness of the character.
By the time Roden walked into the audition, she knew what her twist would be. "Wouldn't it be funny if the meanest girl was the smartest?" she asked herself.
To portray such a character, the actress drew off of strong female characters in the media and her experiences at Hocka­day, though she left the school after her sophomore year for Highland Park High School.
"One of the things Hockaday taught me is no one fits into one 'mold,'" Roden said in a personal interview with the Fourcast over holiday break. "There's not just the athlete, the nerd and the pop­ular girl." Roden didn't make up this persona on the spot. "After I went to Highland Park sopho­more year, I was so baffled when girls would know the answer but not raise their hands," Roden said to clarify the long road of Lydia's characterization.
Even though Lydia was written for a six-foot tall model, Roden, at just 5'3", got the part. She said that the producers thought her take on the typi­cal mean girl was "quirky and weird." The writer changed the way the charac­ter would be written, transitioning from shallowness to a life­saver with her brains.
Roden began act­ing outside of school when she transferred to Highland Park. She missed Hockaday, but by acting with some of her former classmates, she retained her con­nection to the school. She never considered acting as a career, though, until she began studying pre-med at the University of California at Los Angeles.
Her first two big breaks were a guest star on "Lost" and "CSI." With her acting career on the rise, she decided to put college on hold.
"I thought that I could al­ways go back to science, but I could never really go back to acting," Roden said.
From there, she guest starred in vari­ous shows such as "Criminal Minds" and "Grey's Anatomy" be­fore stumbling upon the opportunity to au­dition for MTV's "Teen Wolf," a much-laughed at werewolf drama.
Roden was ini­tially uneasy audi­tioning, especially after her friends snickered at the name, but after read­ing the script she realized that "it was actually good," she said.
"Teen Wolf, "originally in­tended as a 'dark reimagining' of the Michael J. Fox 1980s movie of the same name, has a much more serious tone than its in­spiration. Now a supernatural hit, it has expanded upon its American werewolf mythology to include a more diverse cache of myths. The show's plotlines have been subject to both praise and biting criticism over its three seasons. Even Hockaday students dissent over the story.
"I originally got into it for the hot guys but stayed for the story," senior Ginny Crow said, after attempting to watch it when the pilot aired in 2011, then retrying it several years later.
Some criticize the show for its lack of feminism. "Allison and Lydia don't need men, but Jeff [Davis, "Teen Wolf" writer and producer] always makes them have one anyways," fresh­man Melanie Kerber said.
Roden, however, disagreed. "Jeff [Davis] has so many bril­liant ideas, getting ahead of the curve with strong female char­acters," Roden said.
Crystal Reed, Roden's co-star, is just as excited as Roden about Davis's ideas.
"He gave me a bow before Katniss made it cool!" Reed said in reference to her character's skills in archery and strength.
Roden believes that the writer never intended to make Lydia's personality smart, but the version of Lydia that Roden portrayed in her audition influ­enced him. Slowly, Roden's own unique experiences from Hock­aday's environment made their way into her character.
Season 4, which premieres this summer, is "Lydia's sea­son" according to Roden. It re­turns six weeks after the June wrap up to the third season, spotlighting her supernatural powers and giving many of the answers the audience has been "dying" to hear.
For Fourcast exclusive "Teen Wolf" spoilers from Roden and her costars, visit http://hocka­dayfourcast.org/?p=7652.
– Kate Clement